The time in Uganda is how I wish my schedule in America was, relaxed and never rushed.  I would say that when someone tells me to be ready to go by 7:30 that they mean that here but truthfully they mean to be ready by 8:30 or 9:00.  You see, this is how I wish we lived life, completely in the present and not trying to hurry to move on to the next thing.  Getting used to their time schedule was never really hard for me but then I was surrounded by images like the one above and that is when I realized to take advantage of each moment.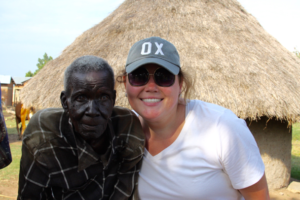 I have only been here for two weeks but I have already had so many amazing experiences and opportunities.  These experiences will never be forgotten and I know there is so much more to come!  One experience reminded me of my grandmother.  I got the pleasure of meeting a 103 year old lady.  She was still walking, dancing and smiling with joy.  However, this sweet old lady did not have a mattress to sleep on.  I got to be a part of giving her a place to rest each night instead of sleeping on the dirt floor.  I just know how often my grandmother hurts but I cannot imagine the pain she would have if she had no choice other th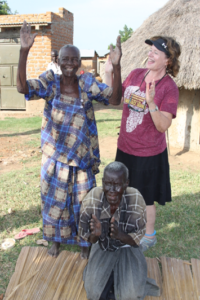 an to sleep on the ground.  Sometimes a small amount of comfort can bring the greatest amount of joy!  This sweet lady's eyes started glowing when we placed her mattress in her home and made her bed for her.  She then went outside where her family was sitting in a circle and another other older woman joined her.  The two women began to dance with joy and once again time stood still. 

Another experience I had with really adapting to the time here and enjoying the present was by singing and dancing to songs with the children of Kamiluk Primary School.  Just a little background info to this understanding: I was involved with leading every classes Bible Study.  Before the Bible Study began we would sing just a couple of songs and then at the end we taught them one song that went with the lesson.  Now yo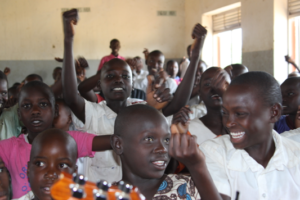 u are up to date!  What I was missing through this entire experience was that the children just loved us to love on them by singing and dancing with them!  They loved that so much that they wanted to sing and dance for hours!  With song that were uplifting and glorifying to Christ!  This was brought to my attention one da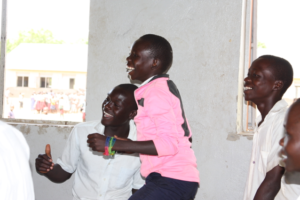 y when I was so caught up in trying to check off a list instead of paying attention to the present.  So, that day we sang and danced for hours and the image of the smiles on their faces is painted in my memories forever.  I caught myself stopping to stare at what was happening because of Christ several times and I was overwhelmed with joy!
I am beyond grateful for the experiences I have had so far!!  I know that there are many more to come and I am excited to see what the Lord will do over the next 5 months that I am here!  Please pray for these children and their families, that the Lord will meet their needs!
Many Blessings
XO– Kerri McGehee (also known as KK in Uganda)