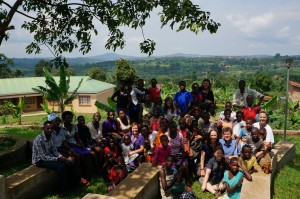 We've dropped the Wests off at the airport and  Mama Dot and Cossy are staying nearby ready to take the hotel shuttle to pick the second two-week team up expected to arrive at 3:15 a.m.  We will certainly let you know when they have arrived and we are joined together. Steve and Juliana West have been an incredible part of leadership for the team and we look forward to all they have to share about their experiences. They may even share about the flying white ants!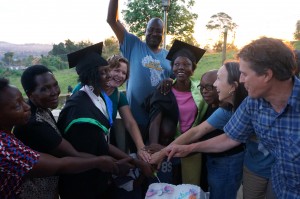 It is an exciting time in the life of Embrace Uganda as our scholarship students are beginning to graduate.  It was such a blessing yesterday to join two of our recent graduates for a celebration in the garden sanctuary at Agape Children's Village at sunset.  Eva received her teaching certificate and Mabele received her degree in social work.  Pastor Michael, Cossy and the Director of Agape Children's Village were all their to take part and speak.  They inspired even the youngest orphans to do their best in school in order to wear the cap and gown and get a delicious cake homemade by Mama Grace!
We have a challenge before us though as we go back home with names of 5 candidates for University.  It is our desire to carry through with all of our secondary students and help each one reach their fullest potential with University or Vocational training.  If you or someone you know would like to sponsor a student please go online or email us for further details.
Mama Dot
The moment you enter the boarding lounge at Entebbe International Airport, you sense the presence of something other than Uganda. It's asphalt, security gates, planes, Western consumer products, and the sense that we are leaving one world for another. And when the plane is boarded and I feel that rush of air conditioned air, I know I have left.
I remember faces: Mama Grace and Mama Josephine, King, Ronald, Mama Christine, and so many more children. So many. I've been here before. I know what it is to leave and to arrive home, and yet I want to hang on to what is here, to somehow take it with me. I know I can only carry it in my heart.
Thank you Dorothy and team, Sam, Hannington, Amos, King and Ronald, for making this a wonderful trip. For my US team members, all college age women among whom I detected not one hint of "drama" but only love for one another, I am thankful. Lauren, thank you for taking beautiful pictures and for a constant smile and love of children that was inspiring. Kaitlyn, thank you for being the life of the party, for keeping us laughing, and for sharing our first and fourth trips together. Thank you Haley for an infectious laugh and generous spirit. I think you will be called to Africa one day. Thank you Jamie for being Anna's seat mate and roommate for the first week, and for your heartfelt blog entries and comments during devotions that come from a deep love of God. Thank you, Dorothy, for being a very cool team leader who gave us space to be ourselves and yet led us so capably. You ARE a missionary. You have followed God's call on your life. Thank you for encouraging me to leave my beloved home and GO. Thank you Anna, my sweet daughter, for having the heart of a child and for loving the children so well. You accept them the way they accept you: unconditionally. God is smiling on you.
Sam, Amos, King, Ronald, and Hannington, you are full team members, "all-in" and full of enthusiasm for all that we did. Thank you for loving us and sharing this time with us. And thank you Hannington for making me drive in Uganda! (Sorry about that one speed bump.). And Sam for including us so richly, honoring us, in your wedding introductions. You bless us.
All that I have written is inadequate. I am just grateful for you all. And while this blog entry reeks of an uncharacteristic sentimentality, I can't help it. I mean it.
We return, sadly, but carrying with us sweet memories of a people and place and time together. God bless you team and make fruitful your labor of love and joy as you carry on.
Steve West
Today was field day at Agape Primary School. After breakfast and devotions, we headed over to the school. The kids were excited! We divided them into four groups and rotated them for about 90 minutes among four relay centers, such as "dizzy bat" (a fave), ball chase, and other kinds of relay races. There was much laughter, clapping, and chatter. Hannington was great, fully engaged in all that we did, as were King and Ronald.


After a short break, we divided into two classes, one that sang songs, usually with many hand motions, the other that did drawing/doodling. After this, we did another round of relays and then served them beans and posho while a brief but heavy shower began.
We went back to Agape for a late lunch. Some went to deliver gifts to the school and then to pray over a tract of land Mama Josephine bought nearby (at her request). I went into Kampala with Hannington to exchange money and then buy 60 soft drinks as a treat for the Agape kids and adults. On the way in, Hannington stopped and treated me to some grilled corn on the cob at a farmers market. It was great. After the exchange, he insisted that I drive back from Kamapla. I did. What fun, with boda-bodas whizzing by, pedestrians, traffic, potholes, and speed bumps. I drove all the way back!
Then, it was up to the prayer garden for a celebration of the graduation from university of Mable and Eva. Mama Grace made a cake in the shape of a Bible. These are the first Embrace Uganda supported graduates from Agape!
Finally, there was a slideshow of all the pictures that our team had taken at Agape. It was great seeing the kids call out the name of those they knew. It was a fine close to a great day!
This is probably my last update. Sadly, Juliana and I depart tomorrow night. Please pray for the safe travels of the new team that is in the air now, as well as our travel back. It's been a wonderful trip,
Steve West
Our team had the special privilege today of attending the wedding introductions ceremony of Tusiime Sam, who has been our friend since the first mission trip to Kaihura in 2007.  He has joined us on every mission trip and is a full team member! His parents Faith and Arthur are well known to us all, and his brother Amos (who joined us on this trip) and sister Ruth are just as amazing as Sam.  So, we were delighted to attend this cultural event.
This was a long day, and I cannot do justice to it in a short post.  First, we went to Sam's uncle's home at 10:00 a.m., where Arthur entertained us for a couple hours of conversation.  About noon (the starting time for the ceremony) we were served a plate of boiled potatoes.  Yes, a plate full. It was explained to us that "lunch" may not come until 3:00. After eating we were all fitted with borrowed traditional clothing, I in a kwanza (basically a male dress) and the ladies in colorful gowns.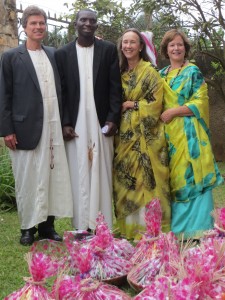 We proceeded in a convoy about 2:00 to the site of the ceremony. Tents covered the area next to a building. We marched in by a crowd that was already seated.  Dorothy, Juliana, and I were in a room with Sam and his fiancé Miina's uncles, while the rest of our group went straight in where others were seated.  They had a meal.  We engaged in some rituals in the room which I cannot explain. I had to eat a coffee bean.  That's one.  Almost all the talking is done by experienced representatives for each family.  The idea behind the ceremony is that a number of things must happen for Sam to be accepted by the bride's family.  He must be healthy (some "nurses" checked him out), have a good background, and pay the bride price, which amounts to chickens for each of the nine brothers, a sofa set, fruits, rice, luggage, and more, all of this negotiated in advance.
After our time in the room and our lunch, we came out and marched in with the group again.  Thereafter followed about four more hours of entertainment, gift-giving, speeches, prayers, dancing, "negotiation" (it's all for show) and, finally, the formal acceptance of Sam into the family.  By the time we returned to Agape, it was over 12
The marriage ceremony is Sunday.  What is Sam doing after a very, very long day?  Watching the World Cup, what else?  It began at midnight Uganda time.
May Sam and Miina have a long and happy marriage!
Steve West
Tonight I am reminded of how much God loves his children. As we sat watching stories from the Bible on film tonight, children were nestled close beside and on many of our laps. While one of our sweet babies sat on my lap, trying not to fall asleep, it was as if the Lord reminded me that as much as I had fallen in love with this child, He loves him that much more. He was reminding me that while many of these do not have earthly parents around, their Heavenly Father, who is so much more, never leaves their side, and he even grants his other children moments to pour out His love amongst these. So after the video He provided me the sweet opportunity to do just that: to give His children goodnight hugs and kisses as they prepared to go to sleep, to know how truly loved each one is. As the night winds down, his sweet faithfulness of love permeates my soul, and we each fall asleep in the arms of our Daddy which is in Heaven.
Haley Harris
While I don't have a big thought to share today, I can offer you a set of snapshots of smaller things that, pieced together, may provide insight:
We went to bed without electricity and awoke without it. I actually liked it.  Agape Children's Village has some outdoor lighting for security. Lacking it, darkness enfolded us, fans were dormant, and the sounds of the night seeped in. I awoke twice in the night, and both times lay in stillness and thought of the beauty of children sleeping, secure in their beds in the house next door.  But for the Village, they could have been elsewhere.
In our devotion this morning, we utilized a child's devotion from the wonderful Thoughts To Make Your Heart Sing, by Sally Lloyd-Jones.  We talked about how we need not to listen to our thoughts but preach the Gospel to ourselves, reminding ourselves what is true about the world and ourselves. In the picture in the book, a boy is awake in bed, and a dark swirling cloud of bad thoughts hovers over him. For me those are thoughts like "people rarely change" or "children in Uganda will always be hungry, abused, and orphaned." But God's truth that I need to preach to myself is that He has a great plan for these children, for the world, and is at work reconciling all things to Himself and setting things right. . . in His time. I need to be a child about that and just believe what I am told in the Word.
We had another rainstorm this afternoon. I laid on the bed and listened to the rain on the tin roof, almost deafening with the resonance of the concrete floors.  Jamie and Kaitlyn took naps curled in chairs in the living room, while Amos and Anna played cards.  How often do we play cards at home?  Others napped, journaled, and hung out with kids (once the rain stopped). I walked down and talked with one of the kids, David, who was sitting outside the outdoor kitchen, and then with Mama Grace in the kitchen, who was cooking up a big pot of matooke over charcoal covered with banana tree leaves, as well as pots of beef and chicken.  The kitchen is not vented, so smoke which cannot escape settles and stings the eyes.  I had to leave, but not before realizing what Mama Grace and many other women have endured over the years.  She tells me she can no longer read because of the years of smoke. She's a great cook, and her beans (grown on site) and potatoes are excellent.
I had a long conversation with Elder Jack, from Agape Baptist Church, who currently oversees the Village.  I was able to have the benefit of his perspective on the Village, better appreciate its history, and understand some of his vision for how it might develop and better serve children and the community. I love that there is time here for conversations, most of which are serendipitous. I'm living a "de-appointed" life.  I made no appointment with Jack, but just saw him walking by.  God's appointment.  Love that.
I forgot to say that while I was at the kitchen and talking with David around a pot of boiling g-nuts (ground nuts) that will become a tasty sauce, a chicken walked up and stuck his beak in the sauce. I decided I would not have that for dinner. The chickens, at least two of which have a brood of chicks, own the place, walking everywhere, even through your house if you let them, hopping on tables, making a racket at times.  Living the life.  No biggie.
But, after all, Juliana and I do not have dinner here. We went into Nkomo with our Ugandan "son" Sam, who wanted to have studio pictures made with us, him dressed in his college graduation cap and gown.  His uncle Jonathan, who heads his wedding committee (he marries Sunday!), drove us along dirt roads from Bukerere to Nknomo, streets buzzing with people milling about small shops, children in school uniforms walking home from school (at 6:00!), like New York in a way, full of life.  Afterwards, we had dinner at the Colline Hotel, a nice hotel by Ugandan standards. We had pizza! For one night, no rice and beans or potatoes.  We were able to have Sam's sister Ruth, who we had never met, join us for dinner.  Ruth is awesome, beautiful, poised, and in charge. . . of Sam and Amos.  They do her bidding.  Sam explained to me that they are scared of Ruth!  They respect her.
When we returned to our room this evening, we found a sweet note from Annette on our bed. It reminds me of the gentleness and sweetness of the Ugandan language, whether Luganda or Rotoro, when translated to English. In the letter she said of the EU team that "you really made us collect our lost hope."  In another note, a young man here referred to us affectionately as "dear ones," a phrase we would not hear at home. I am thankful for not only their way of putting things but for the sound of their words, words that land softly on our hearts.
Now, Juliana is preparing a Bible study for the Mamas and other women for tomorrow, as we bask in the breeze from an oscillating fan (how things have changed), as the extraordinary nature of this ordinary day settles into my soul.
That's a little of my day in Uganda.  All good.
Steve West
Last night was a very memorable night and one that I will never forget.  After dinner a few of us were doing the usual routine of washing the dishes.  As we got a system down of washing, rinsing, and drying the dishes, the power went out.  Immediately someone came in with a flashlight so we could continue washing.  As we continued with the dishes we began to sing hymns. One of the men joined us with a guitar and led us in a continual worship.  The simple task of washing dishes turned into a beautiful time of worship and celebration of our Lord.  I was so humbled by the Lord's sovereignty, faithfulness, and the joy that He gives to His children.  We should praise Him in every situation because His plans are better than our own, and He is faithful through it all.
I had not expected the loss of power, but because of it, I was able to see God's light shine more clearly than with the electricity.  The word in 1 John 1:5 says "God is light, in Him there is no darkness at all."  Although the room was filled with darkness other than the dim light coming from the small flashlight, the room was beaming with God's presence as the room was filled with rays of joy, praise, love, and gratefulness.  With arms lifted, voices raised, and hearts overflowing with joy, we worshiped our God together.  Nothing else in that moment mattered.  We lost the power of electricity but gained a greater power of the Holy Spirit as we united as the body of Christ in worship.  As more people joined to worship, the room became so full that we had to move from the kitchen to the living room.  We continued to sing and dance as a act of worship until the power returned, and even then continued to praise our God until it was the children's bedtime.  "Great is The Lord and most worthy of praise" says Psalm 48:1.  Through it all, He is great, He is worthy, and He deserves our praise.
Lauren Bass
Ronald Kyaligonza is a tall twenty-two year old young Uganda man.  He is sitting across from me in the prayer garden at Agape Children's Village in Bukerere, Uganda. He is tall and lanky, with an easy smile, a soft voice, and aristocratic features.  I want to tell you his story.
Ronald was born in 1992 in Nakawa to a home where he was neglected and abused.  His parents were both alcoholics, given to abusive language, canings, and other beatings.  By the age of nine, both parents had died, his father of AIDS and his mother in the hospital of an unknown illness.  Alone, his uncle took him in, yet his wife mistreated him and often did not feed him.  His uncle forced Ronald to work to nearly midnight every day and rise at 5:00 am for more work.  Attendance at primary school was sporadic, as his uncle failed  to pay the minimal amounts needed for school uniforms and other fees.  When he was attending he often fell asleep in class, so much so that other children called him by a pejorative nickname, "sleeping sickness." His memory is of being alone on the playground, in his own world, rejected and all to himself.  At ten years of age, he says "I thought my life was at an end.  I wished a car would hit me so I could leave this world."
A neighbor befriended him and told him about Compassion.  At first his uncle rejected involvement in the project run by Compassion, but eventually he accepted.  He was schooled at Compassion and fed, and he was told that "God has provided everything."  Yet he still had to work hard for his uncle, so he fell asleep in class and was taunted by kids even there.  Finally, when his situation at home did not improve, Compassion workers took him  to Agape Children's Village, where he was able to attend primary school, was fed and housed, and, more than that, was impacted by the Gospel through the words and deeds of Mama Christine and Mama Grace.  They told him about Christ. "I started seeing that my life was changing.  I had a smile on my face."  They taught him how to pray.  He had friends.  For the first time he had hope.  He prayed "God, my life belongs to you.  You have rescued me.  The only thing I have to give you is to praise you and die for Christ the rest of my life."
In 2009 an Embrace Uganda team came to Agape Children's Village.  They committed to provide the funds for Ronald and other older children to attend secondary boarding school.  Ronald graduated in December 2011.  Because of Government rules, Ronald was told he could not live at Agape after secondary school, as he was over 18, so he moved back to his uncle's home.  He did not know what else to do.  Initially, he secured work in Kampala at a construction site.  He carried large bricks all day.  He was paid $1.00 each day.  He arose at 4:00 am and walked 20 kilometers to work, which took around four hours, worked until 7:00 pm, and then walked back to his uncle's home, slept four hours, and did it again.  After a month he began getting sick, so he had to quit work.  He worked for his uncle again, and the same pattern of abusive language and neglect continued.
He began attending a church in the area, and began to serve in ministry there.  The church offered to provide transport and food for him in exchange for work cleaning latrines and mopping floors after midnight each night.  That lasted a month.  Once again, he did not know what to do.  That was when he was offered housing and meals at Agape Children's Village in exchange for assistance with church worship and odd jobs.  He was told the time may come when he has to leave, but for now, he ministers here.
Ronald's dream is to attend university and be trained in ministry.  He leads worship on Sunday mornings.  He has a tender and compassionate heart, a willingness to serve.  He says he "wants to lead worship and help children who are suffering."  Yet he needs a sponsor.  He waits for God to provide.
I told Ronald that his story will give a face to the many children who will never get to tell their stories, that the God who works all things for the good of those who love him will use his story for good.  Through his willingness to share, people will know that each child has a story, that each child is unique and loved by God.
To attend university Ronald will need tuition, room, and board.  That cost is approximately $2500 a year.  For $10,000, less than the cost of an inexpensive new car, he can have a college education.  Would you consider giving him that hope? Contact Embrace Uganda to find out how.
Steve West
We woke up to a heavy rainstorm, which is very unusual this time of year.  An afternoon shower is some times present, but I can't remember ever seeing such rain in the early morning in Uganda.  It was a school holiday for the children and pouring outside, so the team went to Plan B.  After a sweet time in prayer and worship we used the morning to categorize and divide all of the goods and resources we brought for the children at Agape Children's Village and Agape Primary School. We thank all of our donors of the goods we have to give.  It has been such a blessing to see the smiles and expressions of gratitude for much needed supplies as well as, fun toys for the little ones.  The afternoon was spent bonding with the orphans, hearing their stories, holding their hands.  Thirty-five children are here now, with more than twenty-five away attending boarding school.  Tomorrow we  plan to teach lessons and alternate with play stations at Agape Primary.
Dorothy Bowman
The Lord has been using this past week to remind me of His sovereignty. Our devotion this morning was the same reference I had blogged about a few weeks ago (2 Corinthians 12). Hearing it this time, however, resulted in a different train of thought.
For a long time, I was burdened by the false idea that I somehow deserved salvation. It resulted in me constantly trying to work to prove to God that I was somehow worth saving. Going to church, praying, reading my Bible, and talking about Christ were all things I did mainly because I was trying to show God how good a person I was. Fear consumed me at the thought that God might one day be done with me because I had made too many mistakes; because I was too broken.
This past year, God made it painstakingly clear to me that all of the things I do, good or bad, are out of selfishness or ill intent. As humans, our core is tainted and stained. Nothing we do can glorify God apart from Himself. Realizing this really wrecked my world and my picture of salvation. After living for so long with the feeling that God somehow owed me His freedom, it was really hard to humble myself to see that salvation has nothing to do with me. It's just an overflow of His grace. For a long time, I was able to distract myself with the loves of the world.
Coming to Africa took all of those away, and through being here, God has revealed to me the beauty of our brokenness. God loves me and accepts me because HE is Love, and He has mercy on me because HE is Mercy. What a wonderful thought! For all the good we may do in the world, He will never love us more than He does right now. And for all the sins we commit, He will never love us less. Salvation has nothing to do with us or how good we are, but how good He is. I am bursting at the seams to share with others the love and grace God has shown to me, a gift I now recognize is so undeserved; and I will start with Africa. To humble yourself before God is true freedom, and all we have to do is embrace it.
Jamie Riley