Our final day in Kadacar was most humbling for me.   We continued delivering mattresses the first half of the day because we had closing ceremonies to attend beginning at 12:30 that afternoon.
Some of the older people who were expecting mattresses lived too far away for us to get to them in the time we had allotted to the task.  With numerous deliveries to be made before we had to be at the closing ceremonies there was not enough time to travel the 3-4 miles, one way, on foot to get to these people.  So they came to us, all of them, on foot, at the age of 75-80 and older.
After passing out mattresses to the elders who came to retrieve theirs, the team broke up into 4 smaller groups to make deliveries in the area immediately around Kadacar Primary School.  Each of the older men and women we gave a mattress too thanked us profusely, most from their knees, and said in some way, shape or form, "May God bless you and add to you and give to you your needs."  Humbling to say the least!  These people are living in mud brick homes with grass roofs and literally nothing of material worth and yet they are asking God to "add to you" when we give them a 25 dollar mattress.
However, one lady made a statement that stopped me in my tracks as we were walking back from setting her bed up.  Through our interpreter she said how happy she was to be walking down the road with me (really just a dirt trail).  She continued saying she knew that as a team we cared for the people because we surely would not have come so far if we didn't and that she would be most pleased if when she died if I would come back to bury her as her husband had already died.  That one put a lump in my throat immediately.
Humbled doesn't adequately express the emotion.
Bruce Paterson
This week has been pretty incredible. It has been full of ups and downs but always fun! We went to two schools: Koreng Primary and Kadacar. Our hearts were warmed by adorable songs sung by a chorus of high-pitched voices. Though I have been deeply touched in many ways, the experience I had with a young man sticks out the most. Juma is an 18 year old young Ugandan man who is married and has about four children. At Kadacar, our team was delivering mattresses to the elderly as part of Emily's "Sweet Dreams" ministry, when Bruce and Jonathan met this young man. I was sitting with some of my team members and we were all exhausted from the heat and walking. Bruce, Jonathan, and Juma walked over to us and instantly his joyful attitude and positive spirit energized us. When we asked him how he was he said, "I am fine; I have no problems" and continued to beam at us with his beautiful, contagious smile. His presence cheered us up and reminded us to be happy. He even came back a little later to help Jonathan clean the cut he got while walking in the bush. What a servant's heart! You could just see the love he had for the Lord. It was amazing. We made sure to get his contact information so we could keep up with him when we go back to the States. Our team agreed to try to sponsor Juma as he is no longer able to pay for his school fees for Secondary school and University. I learned a lot from the brief experience I had with Juma. I was reminded of the joy I should have all the time because of the way I have been blessed by the Lord. I thank God and praise Him for this opportunity to come and serve Him and learn to love His people better.
Rebecca Yoakum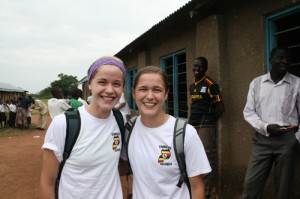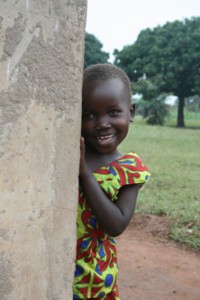 The day of our departure from the Kadacar Primary school was a difficult one. I kept looking around at my fellow team mates and wondering how they could be so good at forming such quick connections with the children. I knew when I came here that I wasn't necessarily great with kids. I've never been one to be in the center of attention and I felt awkward standing surrounded by 20 pairs of eyes all watching and waiting for me to do something interesting. I desperately wanted to make some new little friends, but I was having an impossibly hard time connecting with the kids.
Then, as we began to say our farewells to the students, a little girl I had met at the Koreng Primary school took my hand and smiled at me. I held her hand until the last minute, gave her a hug, and took my seat in the van. When I looked out the window, I realized that the girl had positioned herself right outside my window. Every time I made eye contact with her I made sure to give her a smile. Then, right before the bus pulled out, she reached through the window and handed me a mango she had picked. I'm not sure what I did to prompt her to do this, but it touched my heart in ways she could never know. That this little girl, who's name I didn't know, and who more than likely had nothing to her name, would give me something when she had nothing, was incredible. Her generosity was positively beautiful and I will never forget her for it.
Grace Yoakum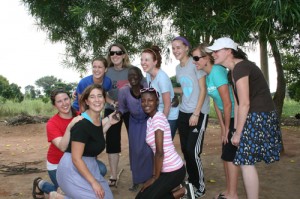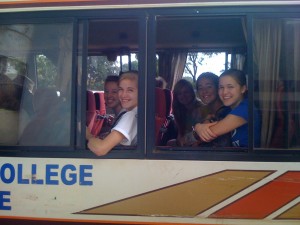 After bittersweet goodbyes at Kadacar and Koreng Primary Schools yesterday, today was a day of travel for us. We went from Kumi to Agape Children's Village. On the way there we stopped by the source of the Nile River, by the town of Jinja. The River is fed by a spring where Lake Victory and the Nile River start. The current in the river was incredibly strong. We watched many different bird species and our guide explained the geology of the region.
I have as probably many a "bucket list" of things I want to do in my life. Things like visiting every continent, fly in a glider, etc. One thing that was not on my bucket list was driving in a 3rd world country however.
I was traveling in Pastor Michael's car with his wife Cossy and Mama Dot. At one point he pulled over and asked me if I would not mind to drive since he had not slept much the night before and needed to rest. Here I was with an item added to my bucket list I did not plan for. I am always good for a challenge so agreed and I climbed behind the wheel and proceeded down the highway, trying to catch up with the team bus.
Luckily for me the road was paved, for now, and relatively smooth. The first thing to remember is that you drive on the left side of the road, you maintain the speed limit and remember there could be a car coming YOUR WAY in YOUR LANE at any point. You have to watch for people walking, bicyclists, goats and cows on the side of the road. Most importantly, watch for potholes and "rumple strips", glorified speed bumps at every entrance of a village. It took a little getting used to it and some of my Ugandan fellow travelers decided, enough is enough and passed me sometimes two cars wide on either side of me. Cross-country driving was fine until we arrived in Jinja. City driving is a whole other story, of dodging cars, boda-bodas (a type of motor cycle somewhere between a Harley and a Moped  (Editor's Note: Far Cry from a Harley)), semi trucks and buses. There are no traffic lights and you just pray to not get hit by anyone. The traffic is an absolute chaos. After a while, I got the hang of it and had a lot of fun. The roads are a mess; you could be traveling down a paved highway just to come to a complete stop to avoid a pothole that could easily hide a VW Bug. What do you do? You figure out a way where you would not bottom out navigating the terrain. Remember, the traffic is heavy with trucks, cars and boda-bodas and everyone is doing the same.
A four-wheel drive is a must here. Most roads are not paved, so the terrain becomes truly a four-wheel drive adventure. The semis are European style trucks, tractor and trailer, not much smaller than US semis. The large tour buses think they own the road and push through wherever possible. When it starts raining, the driving becomes a whole other experience. Nerveless, I had a blast! I love to drive and driving in this country was an experience I will not forget. Oh yes, my passengers are all doing well. J.
Thorsten Hamp
This was sent by Chelsea's parents. Chelsea is a first time Embrace Uganda Mission team member..
"Now to Him who is able to do exceedingly abundantly above all that we ask or think, according to the power that works in us, to Him be glory in the church by Christ Jesus to all generations, forever and ever. Amen.  Ephesians 3:20 NKJ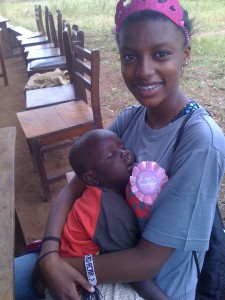 God is SO wonderful!!  Chelsea is loving this spiritual assignment and experience!  Yesterday was Chelsea's birthday! We had a chance to talk to her and she said it was absolutely an AMAZING birthday! She was in awe about the kindness of the Ugandans – they threw her a party! She said almost 700 students from Kadachar Primary sang Happy Birthday, they had a band, a choir and a cake. Chelsea said the village women got up at 1:00am to make her a birthday cake. I know this was transformational for her, because she made the comment that "these women hardly have enough to feed their own children but they got up early and made me a cake." She said she cried more yesterday than she had in three years!
In the picture she is wearing a crown and ribbon we sent in a couple of birthday cards via Stephanie. We also put a birthday candle inside and a gift card with three birthday cakes on the front and told her to use her imagination and make a wish on "her cake" and we would celebrate when she came home. Chuck and I prayed she would have a memorable birthday. Well, God answered that prayer and multiplied the fruit!!
God provided and is still providing MORE than we could ask or think! And God will generously provide all you need. Then you will always have everything you need and plenty left over to share with others.
2 Corinthians 9:8 NLT"
It has been three years since I was last in Uganda, and I struggle to find words to explain exactly what it means to me to finally be back, to be blessed by every single moment of every single day.
I am overwhelmed to realize and witness first hand how desperately we need to be loved – all of us! I met a child today at Kadacar Primary School who was standing off to the side, watching our team as we came to rest after delivering mattresses in the village. He was too young for school, maybe only two or three years old, and too shy to come close. A few minutes after we had been there I reached out for his hand, and he gave me a small smile, and reached back. Only a few minutes later, I found myself sitting on a bench, this child asleep in my lap, as comfortable as he could be – literally drooling on my arm… my heart could have melted. How desperately he just wanted to be held, comforted, and loved – and yet, he would not force himself upon me, he simply held out his hand, and waited for me to come near.
In the same way, I believe God desperately wants to be loved by us. He offers himself to us, fully available and ready, but will not force us into relationship with Him. He will wait for us. How amazing! The God of the heavens and the earth will wait for you, and meet you where you are. In the same spirit, I think it is important for us to meet others where they are. Embrace Uganda is so unique in the way that we ask of our partners, "what do you need?"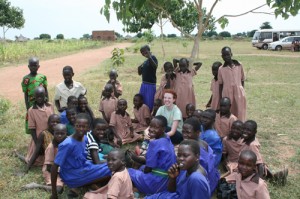 Today we were able to attend a meeting of the school district at Kadacar Primary School, and I was so blessed by the way the headmaster, the secretary of education, and the head of the Parent Teacher Association, to name a few, spoke of the importance of education and the value that their children have in the community and in the world. Steven, the headmaster of Kadacar, offered an update on the state of the school, which has recently been named a Model School in the community (AMAZING!!), and told us that since Embrace Uganda has partnered with Kadacar, enrollment has more than doubled – how incredible! I remember three years ago when we began, 200 students met under a mango tree. There were three teachers, no classrooms, no latrines, and not even a well for water. Today they have all of those things, plus staff housing, and a classroom which doubles as lodging for the P7 boys. However, the explosive growth and huge jump in enrollment has created even more of a need for expansion. With nearly 600 students and only 4 classrooms, there is simply not enough room for everyone. The school seeks to offer a hostel for all of the students to ensure that they are fed and cared for, allowing them to focus on their education without having to worry about meeting their basic needs for survival. They need more classrooms and more desks so that students may have space to work. And that is just one school – there are two others in the area that we have only begun to reach out to, who need new uniforms, funding to provide the students with lunch, medical care, etc. I fully trust that, provided the resources, the schools will continue to grow. The staff and administration truly have the best interests of the students in mind, and the passion they have for the youth is something that I really cannot put into words, and with leadership like that, only good things can come.
My heart is so full from this week, and it has been amazing to see the way that the Lord has orchestrated every small movement to allow us to serve this community in a way we could never do on our own. I pray that it will continue to grow in this way, and I know that God provides, but He wants our help – He calls us to be His hands and feet – he puts in our hearts a desperate need for love, and He allows us to serve one another. He holds out his hand and knocks at our hearts, and it is our choice to answer – take His hand, and say "yes!"