BACK TO SCHOOL (Jason Cooper)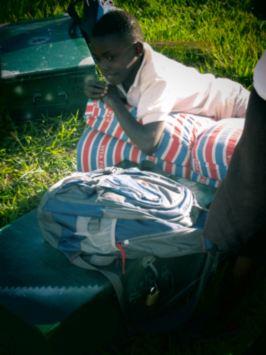 Sunday was an emotional day for me. As you all know, Embrace Uganda and a myriad of supporters sponsor over 20 children in secondary school from Agape Children's Village monthly through school fees and requirements. Each month, a child's education is lengthened by the money that their sponsor sends in. I want to take this moment to thank every single sponsor through Embrace Uganda that helps to make this possible. From the bottom of my heart, I am forever grateful for your generosity. Sunday and the week that led up to it was an eye opening experience for me. I was able to see directly where the money goes and how the sponsorship works. Every dollar is being used towards a child's education.
The week that led up to Sunday was a week in which, Lillian (Sponsorship coordinator) and we the Three Amigos (Becca, Josh, and I) worked around the clock to gather all the school requirements that the children needed. We had a meeting with the kids on Thursday to get each of their requirement lists and to go over their responsibilities in regards to the sponsorship program. That Friday, we bagged all of the items into individual bags and placed the child's name on it. These bags included deodorant (a luxury), toothpaste and brush, bathing soap, washing soap, notebooks, paper, ruler, pencils, pens, socks, shoe brush, sugar, toilet paper, broom, textbooks, jerrican and more.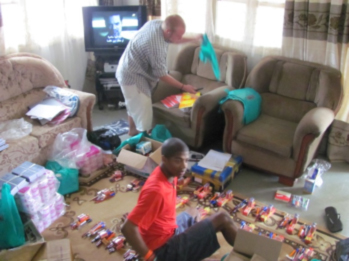 All of these items are either things that the children will personally use or items that the school asks them to bring so that they can be used in the classroom (just like Kindergarten).
These 20+ children are in boarding school, meaning that they go to class and sleep overnight at the school each week. They stay there 3 months and then head home for a holiday break. So Sunday came, which I should interject at this time to say is the worst day of the week to send a child back to school under such conditions. Sunday came and we were up at 7am finalizing bags, loading them in the truck, grabbing breakfast, putting on our Sunday clothes for Church, AND packing for a three day trip for our next project. HECTIC! If you can imagine about 13 people running around the house all with different tasks in mind, that's what it looked like in the Okwakol household Sunday morning. We arrived to Sunday school a tad bit late but all packed and ready to go. Thanks to the people at Rena College, they were able to provide transportation for us to transport the children from the children's village to school that Sunday. So the bus picked the Three Amigos and Lillian up at church and off we went to pick up the children. We arrived at the village and what-a-sight. All the children were packed and ready to go in their nicest clothes.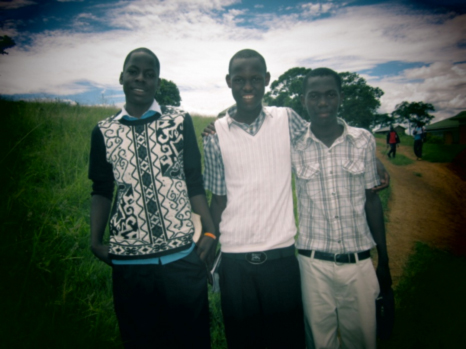 It sent me back to memories of the first day of school. The smiles on their faces and the anticipation brought joy to my heart. The bus was at maximum capacity once we packed all the children's belongings and the children into it.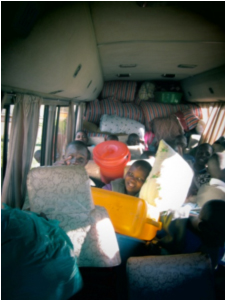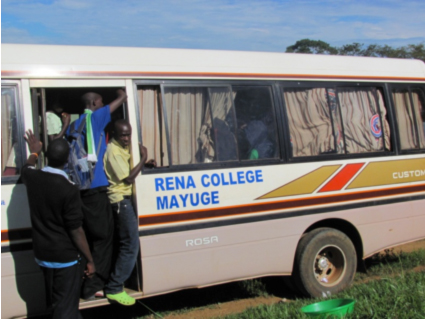 Cozy yet? I sure was. But… off in the distance was one child. A girl of about 14 years that had tears in her eyes. After speaking to her and one of the house mothers, the child had been brought to the village mid way through the year due to a family crisis. Her name was not on the scholarship list. She was sad that all the other children were headed to school, yet she was not. I share her story to let anyone reading this know that there are plenty of other children out there that are in need of a sponsors. You could be just that person. Your money will allow a child to attend school, get meals, and the requirements they are in need of. Fortunately, this specific girl's case is currently being worked out. To God be the Glory.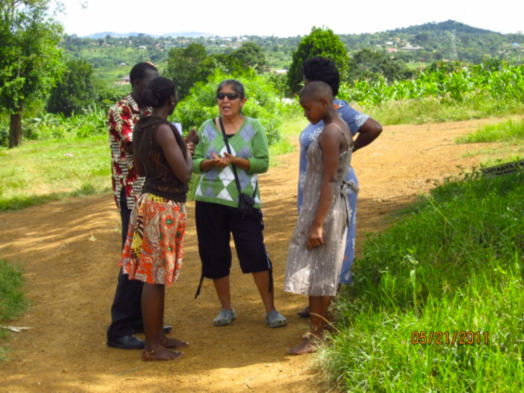 I felt like a parent sending their child off to school for the first time. As all of the packing was going on, tears began to sit at my eye lids. They were tears of happiness and thankfulness, but the last thing I wanted to do was to let them see me crying. It's just really an honor to see Embrace Uganda's work first hand. Again, thank you.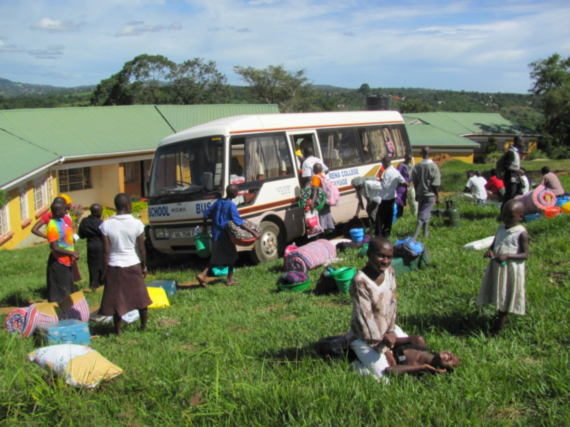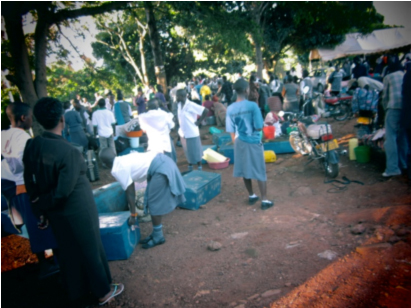 So off we went on the 3 hour drive to their school. A crammed and bumpy ride it was, but not one child complained of no space. They were just happy to be going to school. We arrived at the school about 9pm that night.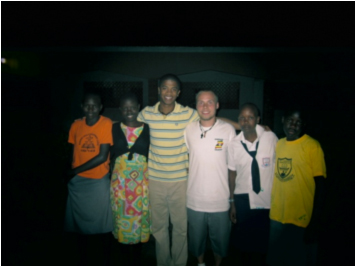 We unloaded the belongings and helped them carry their things to their respective buildings. It was tough to say goodbye. We only got to spend a little time with them, but in that time I had felt like they all were my own. And now they are probably resting for another day of school which usually starts up about 4am and ends about 10pm that night. It's a long day of schooling for all of them and I know they are so grateful to get an education. You all should know that this is so awesome what we are doing and we CANNOT STOP HERE! This is just the beginning of sponsorships, but like Pastor Michael said today… "one village at a time". Soon every child in Uganda will be able to go to school without a worry in the world of how the next term of school fees will be paid or if the teacher will send them home for not having the necessary items. This is my prayer for the future of Embrace Uganda and this is my hope for the children of Uganda. With God on our side (which he will always be), this WILL come to full fruition.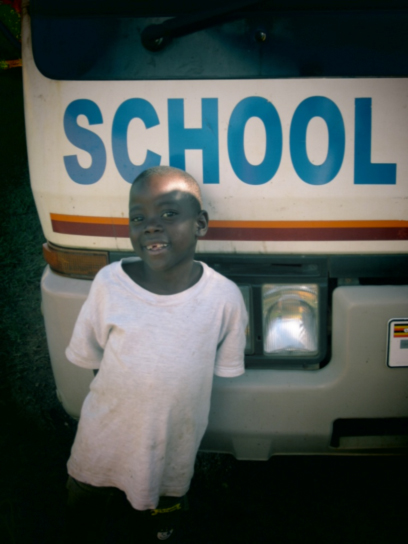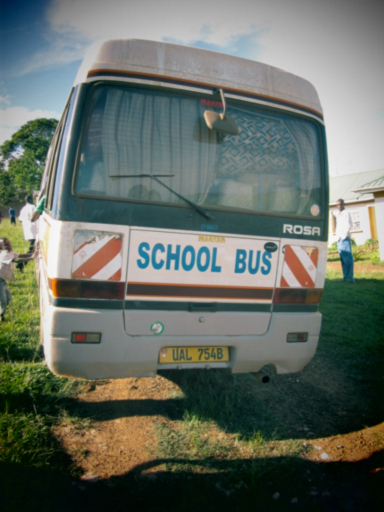 On behalf of all the children at Agape Children's Village, I say THANK YOU.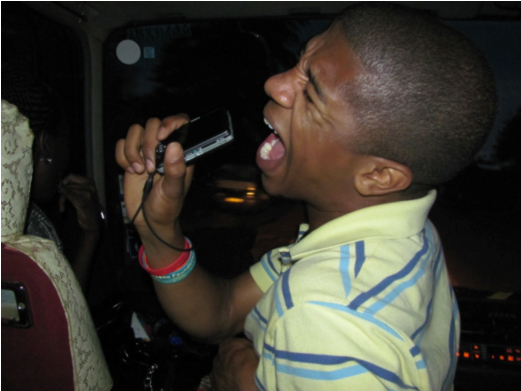 *Me entertaining the kids later on in the bus ride. Singing some Jersey Boys "Oh what a night"
Jason Cooper
3 Responses to BACK TO SCHOOL (Jason Cooper)