Family Picture (by Dirk Hamp)
I suspect I am no different from anyone else who wants to figure out why we are here. There are those days where I question everything. And there are those days when God makes things crystal clear. One Sunday morning in June of 2007, I found out why I was born. It was the day after we met our youngest daughter, Jane. It was during worship at Agape Baptist Church in Ntinda, near Kampala, Uganda. I looked around, I looked at Jane, and Paige and Daniel. The Bredbergs were there. I saw Michael and Cossy and Lilly and Isaac. And I looked at the people around me.
These people were going to be in my life forever. They were going to mold my future. My thoughts were going to be changed forever. This country, foreign as it was, would become so familiar. The children of Uganda were to become the reason I would lay awake at night.
Our travels took us to Kaihura and to Koreng and to Bukerere. Three years later, and having visited again and again, we are still there with our hearts and our minds.
This week we took a family picture. Jane is ours, adopted for life. Quindell is ours, adopted in heart. Emma, Bianca, Evan, Daniel. A full house.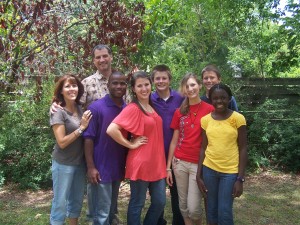 There are full houses in Uganda. Full with children who have dreams. They have laughter. They have joy. They have community. They have house mothers who care for them. They don't have parents.
Their family picture looks very different.
Yesterday, Paige showed me the handwritten lists with the names and ages of the children, similar to ours. Behind every name, it says either "total orphan" or "both died" or states the reason why a living parent is not there to take care of them.
For now, they have a home and a family, provided to them at Agape Children's Village. They have house mothers who deeply love them and care for them. This however, may be temporary as the funding for the village is being withdrawn. We know these children, we know their names and their stories. We know of their dreams, and reintegrating them into the neglectful and abusive places from which they came is not the answer.
For some, adoption into loving homes may become an option. For many of them, we will have to find ways to get educated in a safe environment. We want to help ACV become fully funded while looking for things they themselves can do to become self sustainable. In only two weeks, the children have learned how to make remarkably beautiful jewelry out of paper beads. Other projects are on their way.
In Koreng, the Kadacar Primary School now has clean drinking water. This is a place, where we have an opportunity to help a community rise from a past of desolation to having infrastructure and a future.
In Kaihura, we can look back and gauge the progress that has been made in three short years. However, because of the success, many are looking towards "Bringing Hope To The Family" to provide for an ever increasing number of orphaned children. The staff is overwhelmed, and we want to continue to support. Completion of the clinic is our first priority.
In all places, the children are reaching out to us. We do represent a country and a culture that has resources. Our goal is to help them be safe and healthy while they have opportunity to learn, so that at some point in the future, our help will no longer be needed because they were given a chance.
Eventually, we are hoping for one great, big family picture that includes all of us, Ugandan and Mzungus.
Dirk Hamp
2 Responses to Family Picture (by Dirk Hamp)