Jambo! This is Swahili for Hello, yet it seems to have more meaning here in Uganda. The local language is Rutooro, but some understand and speak Swahili. God is everywhere; in the joy of the children, in the instant friendships, in the grace of servant hood, and the zest for worship, prayer and life in general. Kaihura is evidence of the truth that money generally doesn't bring you happiness. They have little here but happiness is abundant. We tend to take a lot for granted living in the "Developed" West, but spend some time where a toilet is a non-flushing outhouse latrine, and a shower is a bucket of warm water heated over a wood fired stove, rice and beans is a staple, and a portion of meat is the size of your thumb and life seems to take on a whole new perspective. You realize there is much we could easily do without back home.
For many, they only have two changes of clothes, weekday clothes and Sunday clothes. For people who wash by hand in a bucket, the Sunday clothes are always immaculate the weekday clothes are also for those who are working or going to school. However, travel off the main road of the Trading Centre, the village centre, and visit some of the local farmers' homes and the clothes have seen better days. Many holes, stains, and often underwear is lacking.
Health is a major concern here, there is a clinic in the village, yet it only has so much supplies, which is really amazing since around 1060 AIDS patients are treated; 380 are under 18, of the remaining adults 70% are women, and around 900 patients are treated by the clinic on a monthly basis. There is however no dentistry unless there is a missionary clinic so people often live with rotten teeth. One patient at our clinic had two pre-molar teeth growing side by side. Malaria is still common; our missionary couple here has had Malaria 5 times between the two of them. However, among the people supported by Bringing Hope to the Family the number of cases has dropped drastically, due to the distribution of mosquito nets to the farms and villages. The preliminary goal [for Bringing Hope to the Family] is 10,000 nets and so far 300 have been distributed this month. A sad figure we heard was that there is a funeral almost every weekend [in the area], and often more than one. One of the boys from the orphanage, Robert 15, was hit by a car about a week before we got here. He broke multiple bones and was taken to the nearest hospital 43 km away for preliminary treatment, and then had to be transferred to Kampala for further treatment, 6 hours away over bumpy, and sometimes dusty, roads and the van broke down on the way. Praise God he is on the path to recovery, yet this seems to really put the need for prayer into perspective. Life is fragile in Uganda.
In contrast, in many ways life is simpler [...] Monthly overhead is primarily for food, clothing, and health issues when they can be dealt with. Few rent and the majority own their homes outright [although many homes in the villages may be simple, constructed of timber, sticks, and mud mortar]. The counting of the ballots for the primary of next year's presidential election took place under a large tree with a lot of shade on the grounds of the local primary school. A common mode of local transportation is the Boda-Boda a motorcycle for hire, and interestingly many who would not ride on one in the States are more than happy to take "Mr. Toads Wild Ride" (to quote Kathleen N., one of our team members) here. There are fairly frequent motor coach services between the towns, however they are often crowded with no seats available, and crashes occasionally occur. As I stepped out of the shower on Saturday morning I heard on the radio during the English language news that there had been a bus crash on one of the roads from Kampala; 7 dead and many wounded.
We sent one of our Dentists, Marcello, back to Kampala on Saturday to catch a flight to the US, on a city bus, but God was with him and his fellow passengers, and fortunately he returned safely to the US with no incidents.
What are some of the highlights of Kaihura? On the secular side "Land-surfing" has to top the list. This won't be explained, come to Kaihura to experience it. It's especially fun during the rainy season. Make sure you ask for Captain AJ and his sloop Toy-O- Ta. Getting serious, the Lord is everywhere. When Faith and her team at Bringing Hope prepare Sunday Lunch, or food for two conferences and a Mzungu team as well as all the staff of the ministry […], it is not all that different from when Jesus fed the thousands. They do so much with so little.
There have been tears of sorrow and tears of pain, but above all there's been many tears of laughter. The pain is from the stories of what daily life is like for many Ugandans, and what many have had to endure, the joy is ongoing and all around in fellowship, stories, songs, dances and adventures.
What does one take away from a trip like this? "God is good all the time….All the……"
To sum it up; Ugandans and especially the people of Kyenjojo district, Kaihura, and Bringing Hope To The Family, they have in one word…. Faith!!!!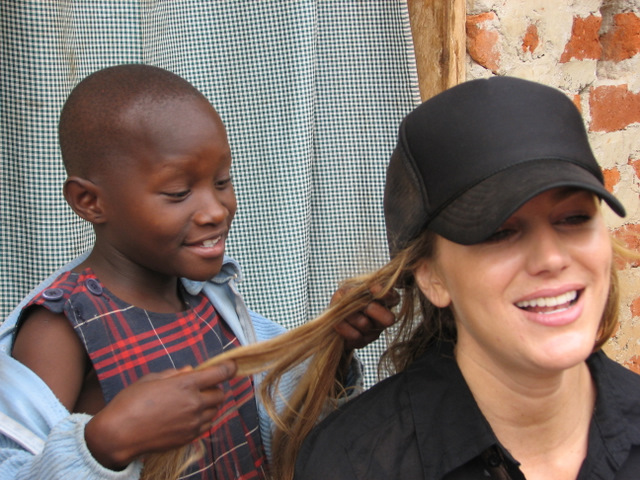 MUKAMA ABAHE EMIGISA (May God Bless You)
Francis Bradford