As most of you know by now, we have been busy over the past month working alongside the 36 volunteers that traveled from the USA. It has been an exciting month of accomplishment and we look forward to sharing the facts in our next newsletter, but for now we wanted to share how we and our partners here in Uganda have been impacted on a more personal level.
Working in any development field, it is easy to be overwhelmed by the constant bombardment of needs and requests for assistance. It is not uncommon for us to be approached every day, sometimes several times a day, by someone asking for something, school fees or some other form of educational assistance in particular. At some point you hit a wall, and while the response to the Ugandan's legitimate request may be friendly, inside you feel broken, helpless, and at times apathetic.
We are extremely grateful to the teams, for through their energy and compassion they have renewed our strength. Through their ideas and thoughtfulness, they have provided us with fresh insight and direction. Through their interactions they gave hope, encouragement, and renewed strength to many of our Ugandan partners. We stand alongside our partners refreshed, with new perspectives and direction on the many challenges ahead of us. We have never seen our partners more energetic, and the following are a few examples of this.
In Koreng, we had announced that EU would be funding the construction of a borehole (deep well) at Kadacar Primary School; today that well will be completed. Yesterday, we passed the District Local Council 5, Mayor, and other government officials on their way to visit the well. Most likely, the well will cause school attendance to increase, and perhaps the construction of the school buildings will resume now that a water source is nearby. At the same school we announced that EU would provide funding for 4 additional teachers, and an account to insure payment of these additional staff once hired has already been established.
At Agape Children's Village (ACV) there was much anxiety surrounding the fact that a previous sponsor (which has funded the children's village for the past few years) will be withdrawing funding of the project at the end of next year. The house mothers and children had already begun making arrangements to resettle back into their respective communities, although, many of them had no true homes in those areas. Now that EU has announced their intention to help fund ACV, the mothers have even begun new income generation activities to do their part to supply the needs for their children.
In Kaihura, Bringing Hope to the Family's management staff are enthusiastically requesting a follow-up report on the many meetings held by some of the team members who assisted in organizational development and administrative training. The staff members are eager to get to work on the many objectives and action items listed in that report. At Dorcas Vocational School, the girls are excited about the newly learned skills of bead and print making, crafts that will help generate income for themselves and the school. We look forward to returning to Kaihura to see what more they will have completed by then.
There is one common factor in all of these communities: the friendships that were either started or strengthened between team members and the people of these communities. The people on the team not only gave of their time and resources to help Ugandans, but they also gave generously of their hearts. The hope that has been kindled in the Ugandan people that they touched cannot be quantified.
We just wanted to send a big THANK YOU to all of you who participated in the summer's mission teams. You have made a tremendous impact in hundreds of lives, ours included. We pray that God will continue to fill you with energy to serve Uganda with your time, talents, and treasures. Again, thank you for all that you have done.
Until next time . . . much love & many blessings . . .
AJ and Ana Overton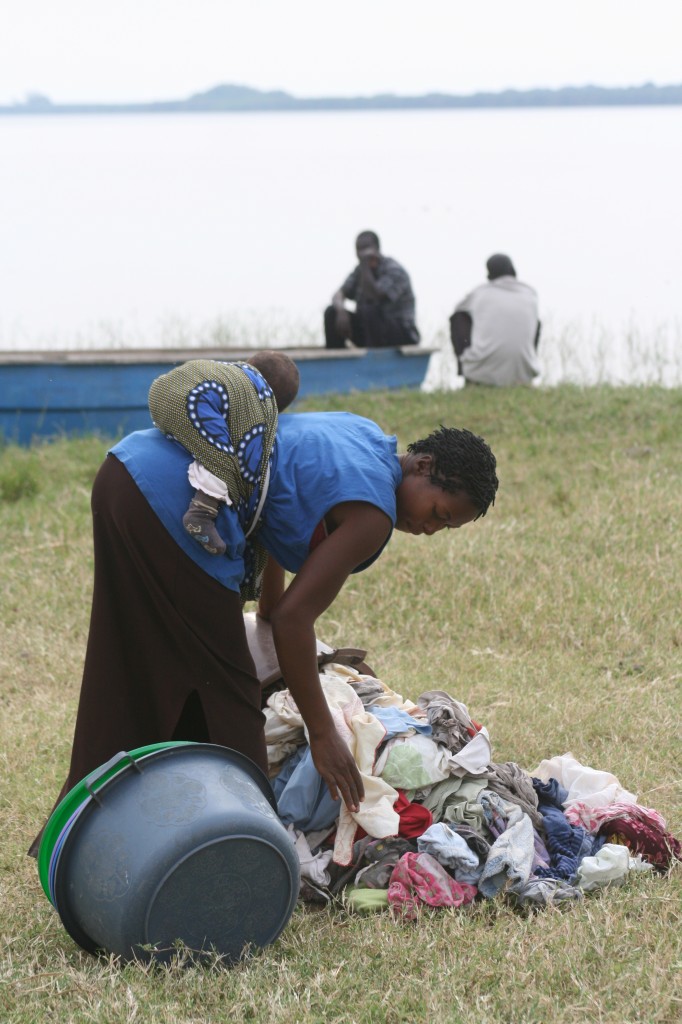 While staying at Dorcas it was often the simple daily tasks and chores the girls would complete that would make me really think to myself how much I take for granted in my everyday life. Upon returning to the US I was reminded of my 1st African laundry day. After recovering from my jet lag I woke up to find that my mom had so generously washed and folded all my clothes and left them in a basket in my room. Kind of like what the girls at Dorcas do when they offer to wash your clothes … with the exception of an actual washing machine of course.
Our first laundry day in Uganda quickly became known as the "express wash" because we skipped a few of the steps typically required to properly wash clothes. Hannah and I said from the beginning that we were going to attempt to wash our own clothes at least once. (Silly first timers!) After hiding our clothes in a bag behind our bunk beds so the girls wouldn't take and wash them for us we eventually made our way down to the well with our basins, soap, and some back up help "just in case". I have to admit it is way harder than it looks. Four basins full of water, one for scrubbing stains out, one for soaping, one for rinsing, and one for a final rinse … at least I think that's how it goes. My hands and fingers were already hurting after about shirt number three. After the girls finished laughing at us crazy "muzungos" and our express 3 basin technique, I was kicked out of my position at the rinsing basin. According to Joyce I wasn't doing it properly. She easily did twice the amount of work I had done in half the time.
I know the next time my laundry basket begins over flowing and I have to drag myself a few steps to the garage to wash my clothes I will think twice about how much I hate washing clothes. Heaven forbid throwing them in the dryer and folding them. I will think of the Dorcas girls making the trek down to the well with their clothes, soap, and basins in hand. I can't even begin to describe how hard those girls work every day and can't thank them enough for all the help and generosity they showed each and every one of us during our stay with them. I love and miss them all dearly and can't wait to see their smiling faces again soon!
Rebecca Kinney
the truth is that these kinds of things will continue to happen, and they can happen anywhere,…we can be intimidated by this, or we can make a choice to love and support the very people in Uganda and elsewhere who need it so much. more than 3,000 children died of malaria today. did anyone notice?
http://www.wral.com/news/local/video/7949458/
Dirk Hamp
All team members are home and safe.
After uneventful travel, they were reunited with their families at 3:15 this morning.
While they were traveling, tragically 64 people were killed in Kampala as a result of twin bomb blasts. The victims were watching the world cup soccer final. Details are available at all major news outlets. We were able to communicate with our friends in Uganda to find out that they were all safe. Our thoughts are with the families of the victims.
Please, continue to visit our blog periodically as we expect that team members will continue to share their thoughts and their stories as they process all that they have experienced.
Dirk Hamp
July 24th through August 1st ,
North Carolina Theatre will be presenting "Annie"
We are thankful to NCT for partnering with us during this event. It will highlight the needs of orphans around the world.
20% of individual ticket purchases will benefit Embrace Uganda.
There will be also opportunity to purchase Ugandan handmade crafts before and after each performance.
Some of these crafts will have been made by our students at Dorcas Vocational School and by the children at Agape Children's Village.
If at all possible, please consider being part of this.
http://www.nctheatre.com/theatre/pdf/AnnieEUOrderForm.pdf
Thank you,
Dirk Hamp
Our Embrace Uganda Teams are packed and ready to go to the airport early in the morning. We wish for them a night full of good sleep as tomorrow will be a very long day. Their flight is scheduled to leave at 9:07 local time, which is 2:07 AM EDT. They will arrive in London at 15:57 local time which is 10:57 AM EDT. They have a little more than an hour of layover time in London before their flight to Washington Dulles. They are scheduled to arrive at Dulles at 8:05 PM. We are prepared to meet them there and bring them home. I will post periodic updates on their status and estimated arrival times in the comment section under this post.
Thank you to all family members and friends who have supported their team member's going on this trip. Be prepared to hear lots of stories. They may need some loving support as they re-enter into our Western culture will all of its good and all of its bad. If they are like most other previous team participants, they will mourn their time in Africa for quite some time.
I hope we can all be in prayer and support of the many people that they have touched while they were there. For some of the Ugandan children who have hosted our groups, this has been an extraordinary time in their lives. We all hope for a time before too long where we can see each other again.
Once the African Sun gets under your skin, it tends to stay with you, and most people always want to go back.
Dirk Hamp
In America we are inundated by commercials depicting African children walking through dumps collecting bottles, young children with cleft lips, or crying babies holding empty plates with bloated stomachs. No doubt these commercials move some to action; to support the organization which plans to alleviate hunger or cure a specific illness, and in that way these commercials do some good. However these images give a very skewed image of Africa and an especially distorted perception of the kids we interact with daily. Yes, most of the children here suffer from malnutrition, deplorable sanitation, and lack many of the necessities which we take for granted in the U.S., many of them have lost both parents, are HIV positive, or have experienced some abuse in their childhood. All these children have stories, but you would never know it from any of their attitudes.
(…) The kids here seem to always be laughing and smiling, some of them with the most perfect smiles and most amazing laughter I've ever heard. They are so thankful for everything they have or anything they are given. Even the opportunity to go to school, which until recently I have never been excited or thankful for, is one of the things they cherish the most.
It is an enlightening experience to spend time here- we are amazed by the thousands of stars which can be seen on the walk up the hill to Dorcas and the lush natural beauty which those who live here do not appreciate in the same way we do, and we gain a much greater appreciation for the conveniences we have left behind such as running water, consistent electricity, and fast-food which they have never experienced.
I guess I'm trying to give those of you who haven't been to Uganda an idea of what impacts me most and what I will take away from this amazing experience. For me, what impacts me most is not the fact that so many of these children are lacking basic necessities or that they have experienced hardships that many of us will never see in our lifetime, though that is truly heartbreaking. But rather it is the fact that in the face of so much adversity, these children are able to inspire us through their unbreakable cheerfulness and hopefulness.
Davis Wiley
Some of the team traveled to Queen Elizabeth Park yesterday. It is a stunning African Savannah and all kinds of wild life can be observed as one travels by van or jeep. Not all get so lucky as to see lions while there, but apparently our team did.
The remainder of the team worked in another health care outreach. According to AJ Overton, 500 people were served. There were those who were seen for a variety of medical concerns, and others who just came for HIV testing. (By the way, I just read in the news that there is new optimism about being able to develop an effective HIV vaccine. Imagine the impact this could have in Africa!)
Baby Paige's CT scan had to be postponed, but a 15 year old girl by the name of Edith and her caregiver traveled with Paige and Hannington back to Kampala yesterday. Apparently, she sustained a lower leg fracture several years ago that was never appropriately set. She does not have proper use of that leg. X-rays were done yesterday and arrangements for orthopedic follow-up were made for a surgical correction in the near future.
Today, more project work is being done. A retaining wall is nearing completion. Mosquito nets are taken to families. Craft teaching at Dorcas Vocational School was a big success. Another night of rest in the village, and in the morning they will say good bye to their Kaihura friends.
I am promised a few more blogs later today, stay tuned.
Dirk Hamp
The team only found out late last night that they were going to cross paths with the President of Uganda. He visited Kyenjojo on a campaign stop. His helicopter touched down in Kyongera. He was meeting with local community leaders. Our team was invited and got to sit in the VIP section at the meeting place. Paige said they really just sat a few feet away. Bringing Hope To The Family and Embrace Uganda were recognized. He gave a speech and community leaders had a chance to share their concerns for their community. While there wasn't any direct conversation with our team, a large group of Mzungus does draw attention and lend support to the concerns of the local population. It sounds as if they had to wait a lot and sit a lot…
In the afternoon, they visited with our friend Anthony who has established a model farm just outside of Kaihura. Anthony has been helping with the agricultural projects at Bringing Hope and in Kyongera.
Tomorrow, Paige will travel to Kampala for Baby Paige's CT scan, and then take care of some business to return to Agape Children's Village for one night before the rest of the team gets back to Kampala.
Those who are visiting Uganda for the first time will have a chance to travel to Queen Elizabeth Park to see wild life, while the remainder of the team will finish project work… Saturday all will travel to Kampala and stay in Entebbe before, early Sunday morning, they begin their long way home.
Dirk Hamp
Yesterday a small group of our team went with our physician to see a health clinic. I could not believe the crowd of people waiting for us already. It happens maybe four times a year that a doctor comes and sees this clinic. Otherwise there are nurses working there. Many people come to get tested for HIV. That's one of the reasons so many people came to the doctor. Our doctor couldn't see them all. It went to my heart, how big the need is for physicians to be here, for example to see this tiny undernourished baby, or the old lady walking with a stick. All in all I can say it is a trip that will go with me through my life.
Berith Hamp