It takes many resources to meet the demands we face each year in Uganda. BUT…the CHALLENGE has been taken on by two team members and a head-shaving contest!
THE GOAL: Raise as much project money for Mission Uganda 2013 (see project list above).
How it WORKS: Whoever raises the most money by June 13 WINS and gets to keep his hair. The other, no hair, shaved head! The tally will be done the night before we leave, June 13. The loser sits, while the winner shaves the other head, simple as that. Oh, and pictures WILL be posted! ☺
If you particularly wish to see Bruce bald, then give to Thorsten. And vice versa!
This is all in fun for sure, but most importantly it will help us finance our projects and bring hope to many! You can make donations online at by clicking here or if you prefer to send money by check; make it out to Embrace Uganda, in the memo write "Head-Shaving Contest – Thorsten" or "Head-Shaving Contest – Bruce" and sent it to P.O. Box 742 Wake Forest, NC 27588. All donations are 100% tax deductible.
Merry Christmas and a Happy New Year from Embrace Uganda. It's still time to Donate to Embrace Uganda before 2013. Embrace Uganda is a 501 (c) (3) organization and your donation is 100% Tax deductible. Got to www.embraceuganda.org/content/donate to find out how you can make a difference in a child's life.
Sincerely
Embrace Uganda Team
It is every African's dream to visit the United States, a place which is branded the world's paradise. Visiting the US was a dream to me that I thought would never come true. Even right now I can't still believe it that I visited the United States, so my dream came true that at one time I thought would never come true.
Oh my God, what an experience boarding an airplane for the very first time, what a good thing with mixed feelings not knowing what to expect when you are inside the plane, getting nervous while the plane was ascending, knowing how the seats are arranged according to numbers, the seat belts if they were similar to those in cars, how we could eat while the plane was moving, wondering whether the food wouldn't spill over, but all in all it was a good feeling tasting the plane environment, turning around that table to eat food, trying to cope up with the new food names.  All was amusement.  I remember Ana Overton told me that "Sam, only expect dry foods when you get to America" and I was like how am I going to survive when I spent so long without eating "matooke" (a Ugandan well known basic food)?  I remember also asking Mr. Steve West what the plane seat belts are like, and he had to explain to me that they are only waist belts hahahahaha!!!!!! What a feeling trying to imagine how snow looks like and at what degrees the coldness is, when you are inside the house or the car, it looks like it's hot outside but just step out and you will get the feeling of winter!
WHAT I MET IN THE US: All my experience began the day I set my foot on American soil in Raleigh- Durham.  Surely as soon as I reached Raleigh the climate changed, became cold to me while those who came to pick me up were not feeling cold.  What an experience to begin with! The first time I went with Mr. Steve West and Juliana West and Mr. Dirk Hamp to visit Paige at her office, I was carried by Santa Claus, first time in a long time to be carried on someone's lap. My first night at the West's house, I remember telling them to adjust my cellphone time because it was very dark and yet my watch read 5:30pm, hahahahaha!!!!!! They laughed and told me that this season it gets dark quickly.  Wonders never end in this world!!!!!!
I can't believe it that I visited the federal courts where Mr. Steve West works, district courts, and up to the Supreme court.  This was quite an experience for me, as who could imagine on earth that SAM would go to court with the USA Magistrate Judge while he was trying cases and also have lunch with him? I also met the United State's Attorney, what an experience to me as law student and attending classes at Campbell Law School.
I went to Wilmington with the Sibert's family, visited the U.S.S. North Carolina, a war ship now docked permanently, went to the famous Carolina Beach and crossed to the other side with a ferry.  What a sweet feeling having lunch at the ocean. I went to one of the Rotary Clubs in Wake Forest.  I went to Jelly Beans for Roller Blading, I visited Boone with the Hamps, saw The GrandFather Mountain, what an amazing place, oh my God that Bridge, it was so high hahahaha, but thank God I crossed it to and from. Wait a minute, I can't forget about the time when I went for snow tubing in Boone and at Appalachian State University. I appeared in the Wake Weekly newspaper in Wake Forest, which made me so happy, and then I went to California, visiting Los Angeles, Beverly Hills and Rodeo Drive, played volleyball at the beach, and went to Disney Land.  Wow! Wonders never cease to end.  I also visited Washington DC with Shamell, going to the different museums there, but what I liked most was the Wax Museum and the historical USA monuments.
MY LESSONS:  Some important things I have learned from my time in the United States are the importance of keeping time and appointments, associating and relating with different people, especially those I had never seen before, improving my public speaking, more especially speaking anytime you are requested to do so, as this has taught me to always be ready because anything can happen.  I remember Mr. Steve West telling me how he was given a sudden notice to speak to a school and he spoke successfully. As a law student, being in those American court rooms and associating with different US attorneys and judges has helped me compare and relate how the Judicial system runs both in Uganda and the whole world.  My particular interest was in knowing what those judges base their decisions on those cases on, and I sure did ask them. Getting to know how different things are done, cooking the American way, church services, generally the daily life and routine that people in the US live was so interesting. Learning many different games like Bowling, Hockey, Beach Volleyball, and Laser Tag helped me learn how to compete hard and in a more positive way.
Wait a minute, I can't forget this: I now have an experience in being interviewed by the media.  This has helped get the nervousness out of me, especially when you know that what you are saying is going to be read by the whole world.  This helped me since I have plans of being a future leader. Above all, my coming to the USA has made me a better person in life, having a great exposure of the world and has expanded on my way of thinking.  My request is that you pray for me so that what I experienced I may be able to put it into practice to help me and other people here in Uganda. NOTE:  I am writing a book that entails all my experience while I was in USA and what I learned from there. I want this book to help those who have never been to the USA to know how it looks like and with God's help give them lessons.
Tusiime Samuel
I love days like today! We have been staying in Agape Children's Village since Monday and it has been exactly what my heart needed. I have been waiting since the day I returned home from Africa last summer for this. The children shouting "muzungu" and all running to hug you and fighting to hold your hand, the praise and worship in the evening and the dance parties on porches at night, the non stop laughter. (for instance: as I type this Cooper is in the shower singing at the top of his lungs!!)
Today was the perfect day. I walked up to the school this morning … I've been wanting to go sit in and watch the "baby class" (age3-6 … God Bless Teacher Josephine!!) just to see how a typical day goes here. When I got up there, they were just getting ready to go for an hour break. 30 minutes to go play outside and 30 minutes to eat lunch … if you brought your cup for porridge that is! I asked her if I could come back at 11 when they would resume lessons. She asked me if I was ready to teach and lead part of the class … I probably looked at her like she was crazy but told her I would be back. I quickly ran back down to the house and asked Mama Vickie if she would come back up with me and help. She agreed and we taught the children to play duck duck goose, sang some fun songs (hokey pokey, telephone to Jesus, head shoulders knees and toes, Father Abraham, bubble gum song, Jesus loves me, etc). It was so fun to see the excitement on their faces and to hear them laughing and having a good time. It was also nice to take a burden off of Teacher Josephine; she is sick with malaria and was clearly not feeling well enough to teach all those children.
Next I headed down to Mama Grace's House, House 2 to hang out with some of the children. I brought some coloring pages and crayons with me (Thank you Hannah, they love the pictures and they actually DO know the Disney characters!!) At first it was just Paul, Gideon, and me. Paul is 5 years old and Gideon maybe 2. We colored for a while and I even taught Paul how to write his name. Mama Grace was so proud!! Eventually there were about 10 children gathered around the table coloring their hearts out. And they were all so excited to show me the finished product!!
By this point, I was beat. And it was only 2:30 … YIKES! So I went to go hang out with the boys. Jason and Sonny were playing speed, a card game … with 1000 Shillings on the line! And Josh had his iPod out playing his favorite Bob Marley. I LOVE hearing the Ugandans singing along to American songs … so funny! Then we sat and shelled beans for about 2 hours. Or as a Ugandan might say … removing their jacket. It was actually really fun and oddly relaxing and we've been invited to come eat as a reward for our work Haha! Once again, they are always trying to feed us.
We also walked down and found a mango tree and knocked some fresh mangos off the tree to eat. And by some I mean a whole basket full and by we, I mean one of the little boys came with us, climbed the tree until he disappeared and shook the mangos off the tree! And we did ask permission from the owner of the tree first. Not even Trader Joes can beat mangos straight off the mango tree.
Then for dinner Cooper made baked spaghetti, by headlamp, because the power went out. All the kids stood outside the kitchen window talking to him while he cooked. It was so sweet.
I love days where you have so much fun doing the simplest things. I've laughed more today than I have in a long time.  I wish everyone could experience a day in Uganda and learn to appreciate the simple things in life. It's the small things that make my day every day that I'm here. I love you all and I miss you all so much but I sure wish everyone could come see me here instead of me coming back home!!
Rebecca Kinney
After dropping the scholarship students off at their schools we (the three amigos and Lillian) met up with Pastor Michael and Mama Cossy to go and visit New Hope Christian Academy – a school that Pastor Michael is assisting to get up and running.
We drove for about 2 hours down a bumpy and dusty dirt road. Trust me when I say, you've never experienced a bumpy car ride until you have driven on this type of road in Uganda in a van packed full of supplies and people. As we drove, we passed village after village of mud hut houses with grass roofs and half built brick buildings. We saw adults and children alike walking to the nearest water pump carrying jerry cans of water back to their homes. We saw children walking to and from school, people riding their bikes and walking to the places they need to go. We stopped in town for a quick pit stop:
sodas, popcorn, and the last indoor restroom in sight. Then we drove about another 20 minutes until we arrived in Apach to visit the school.
The school is still in the very early stages, about 115 students meeting in 3 little mud hut classrooms. A brick school building is in the process of being built but is currently at a standstill because more funding is needed to complete the project. When we got there the kids were in their classrooms listening to their teachers. Of course once we arrived attention was lost and a bell was rung and some came out to see what we were doing. After a quick tour of the school and meeting those that were in charge we began interacting with the children.
One of the quickest and best ways to entertain the children and let them warm up to you a little bit is to take their pictures and let them see it on the screen. Almost immediately the children fall in to fits of laughter looking at images of themselves. Many of these kids are most likely seeing a picture of themselves for the first time. After a while of picture taking and failing to think of a game we could easily explain to a group of children this large who didn't understand us I remembered I had friendship bracelets in my book bag and thought this might be something nice to give the children.
Before I left to come to Uganda I had tons of friendship bracelets donated to me to give out to children. I can't give every child I see food or money but at least I can give them something that might make them happy even for a few minutes. We had all the kids make a big circle and Josh, Jason, Lillian, and I tied a bracelet on each child's wrist.
We made our way out to Apach to visit New Hope Christian Academy not only to see the progress being made and to visit the children but also to provide lunch and water for all of the students. On a typical day the children are responsible for bringing their own lunch from home. If they don't have any food or can't afford it then they don't eat. When we got there lunch was being prepared and we brought boxes of water. The women finished cooking just as the downpour of rain began. We all huddled inside the classrooms to wait for the rain to slow; the children patiently waiting for lunch to be served (it was already about 2:30 by this time). Once lunch was served we began giving out bottles of water and we started realizing not all the children had food. It came to our attention that there weren't enough plates for all the children to eat at the same time. However, not once did we hear a word of complaint from any of them. They just continued waiting until someone finished and they received their own food.
The plan and hope for the future of this school is that there will one day be enough funding to turn this school into a boarding school and children will be able to receive scholarships to further their education.
Rebecca Kinney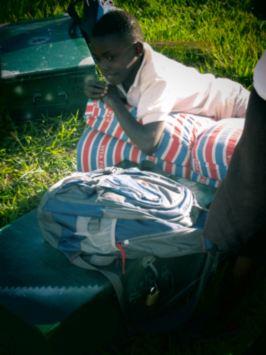 Sunday was an emotional day for me. As you all know, Embrace Uganda and a myriad of supporters sponsor over 20 children in secondary school from Agape Children's Village monthly through school fees and requirements. Each month, a child's education is lengthened by the money that their sponsor sends in. I want to take this moment to thank every single sponsor through Embrace Uganda that helps to make this possible. From the bottom of my heart, I am forever grateful for your generosity. Sunday and the week that led up to it was an eye opening experience for me. I was able to see directly where the money goes and how the sponsorship works. Every dollar is being used towards a child's education.
The week that led up to Sunday was a week in which, Lillian (Sponsorship coordinator) and we the Three Amigos (Becca, Josh, and I) worked around the clock to gather all the school requirements that the children needed. We had a meeting with the kids on Thursday to get each of their requirement lists and to go over their responsibilities in regards to the sponsorship program. That Friday, we bagged all of the items into individual bags and placed the child's name on it. These bags included deodorant (a luxury), toothpaste and brush, bathing soap, washing soap, notebooks, paper, ruler, pencils, pens, socks, shoe brush, sugar, toilet paper, broom, textbooks, jerrican and more.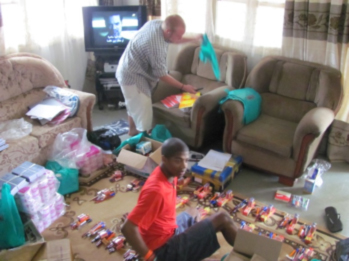 All of these items are either things that the children will personally use or items that the school asks them to bring so that they can be used in the classroom (just like Kindergarten).
These 20+ children are in boarding school, meaning that they go to class and sleep overnight at the school each week. They stay there 3 months and then head home for a holiday break. So Sunday came, which I should interject at this time to say is the worst day of the week to send a child back to school under such conditions. Sunday came and we were up at 7am finalizing bags, loading them in the truck, grabbing breakfast, putting on our Sunday clothes for Church, AND packing for a three day trip for our next project. HECTIC! If you can imagine about 13 people running around the house all with different tasks in mind, that's what it looked like in the Okwakol household Sunday morning. We arrived to Sunday school a tad bit late but all packed and ready to go. Thanks to the people at Rena College, they were able to provide transportation for us to transport the children from the children's village to school that Sunday. So the bus picked the Three Amigos and Lillian up at church and off we went to pick up the children. We arrived at the village and what-a-sight. All the children were packed and ready to go in their nicest clothes.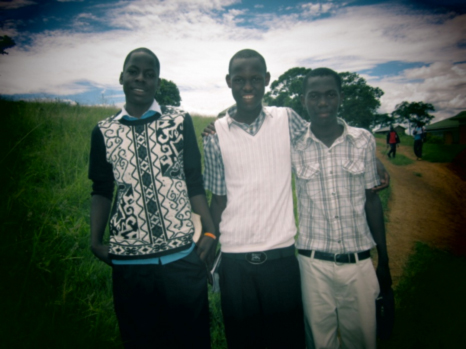 It sent me back to memories of the first day of school. The smiles on their faces and the anticipation brought joy to my heart. The bus was at maximum capacity once we packed all the children's belongings and the children into it.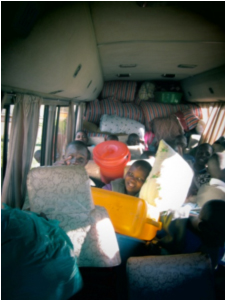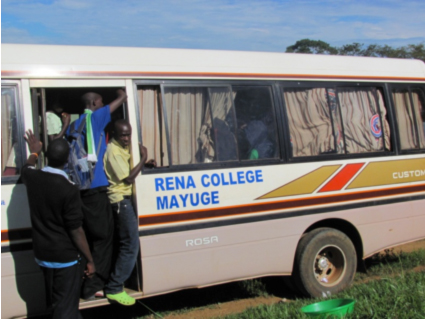 Cozy yet? I sure was. But… off in the distance was one child. A girl of about 14 years that had tears in her eyes. After speaking to her and one of the house mothers, the child had been brought to the village mid way through the year due to a family crisis. Her name was not on the scholarship list. She was sad that all the other children were headed to school, yet she was not. I share her story to let anyone reading this know that there are plenty of other children out there that are in need of a sponsors. You could be just that person. Your money will allow a child to attend school, get meals, and the requirements they are in need of. Fortunately, this specific girl's case is currently being worked out. To God be the Glory.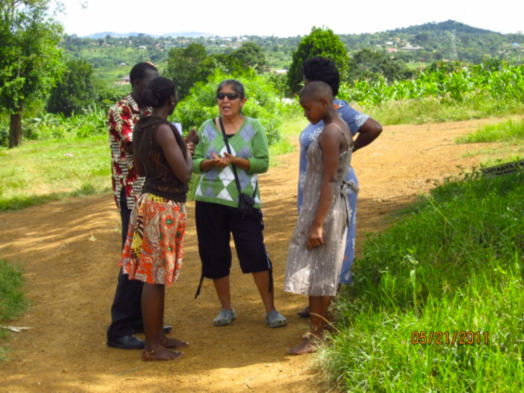 I felt like a parent sending their child off to school for the first time. As all of the packing was going on, tears began to sit at my eye lids. They were tears of happiness and thankfulness, but the last thing I wanted to do was to let them see me crying. It's just really an honor to see Embrace Uganda's work first hand. Again, thank you.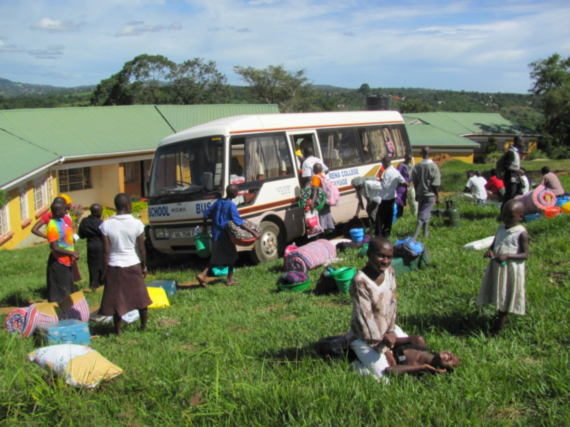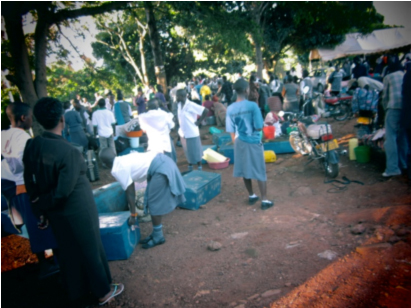 So off we went on the 3 hour drive to their school. A crammed and bumpy ride it was, but not one child complained of no space. They were just happy to be going to school. We arrived at the school about 9pm that night.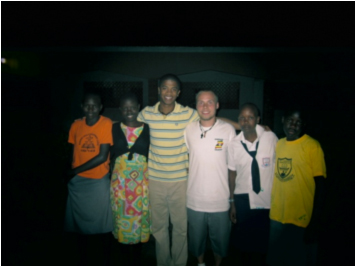 We unloaded the belongings and helped them carry their things to their respective buildings. It was tough to say goodbye. We only got to spend a little time with them, but in that time I had felt like they all were my own. And now they are probably resting for another day of school which usually starts up about 4am and ends about 10pm that night. It's a long day of schooling for all of them and I know they are so grateful to get an education. You all should know that this is so awesome what we are doing and we CANNOT STOP HERE! This is just the beginning of sponsorships, but like Pastor Michael said today… "one village at a time". Soon every child in Uganda will be able to go to school without a worry in the world of how the next term of school fees will be paid or if the teacher will send them home for not having the necessary items. This is my prayer for the future of Embrace Uganda and this is my hope for the children of Uganda. With God on our side (which he will always be), this WILL come to full fruition.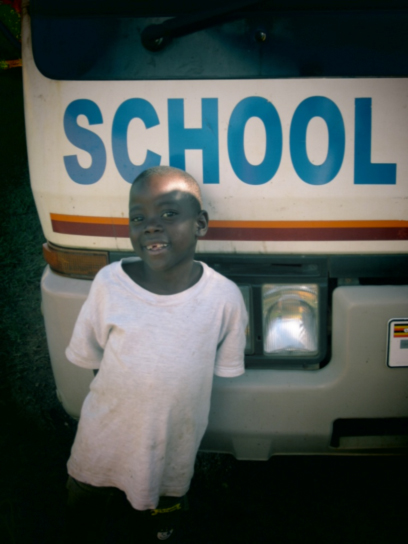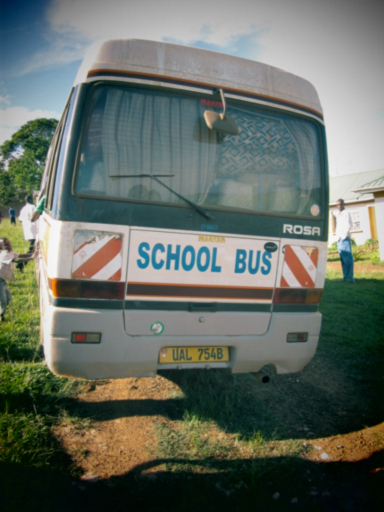 On behalf of all the children at Agape Children's Village, I say THANK YOU.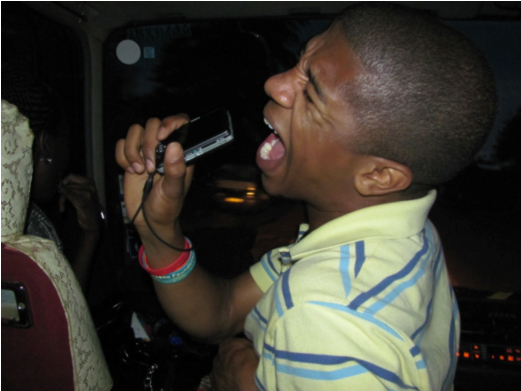 *Me entertaining the kids later on in the bus ride. Singing some Jersey Boys "Oh what a night"
Jason Cooper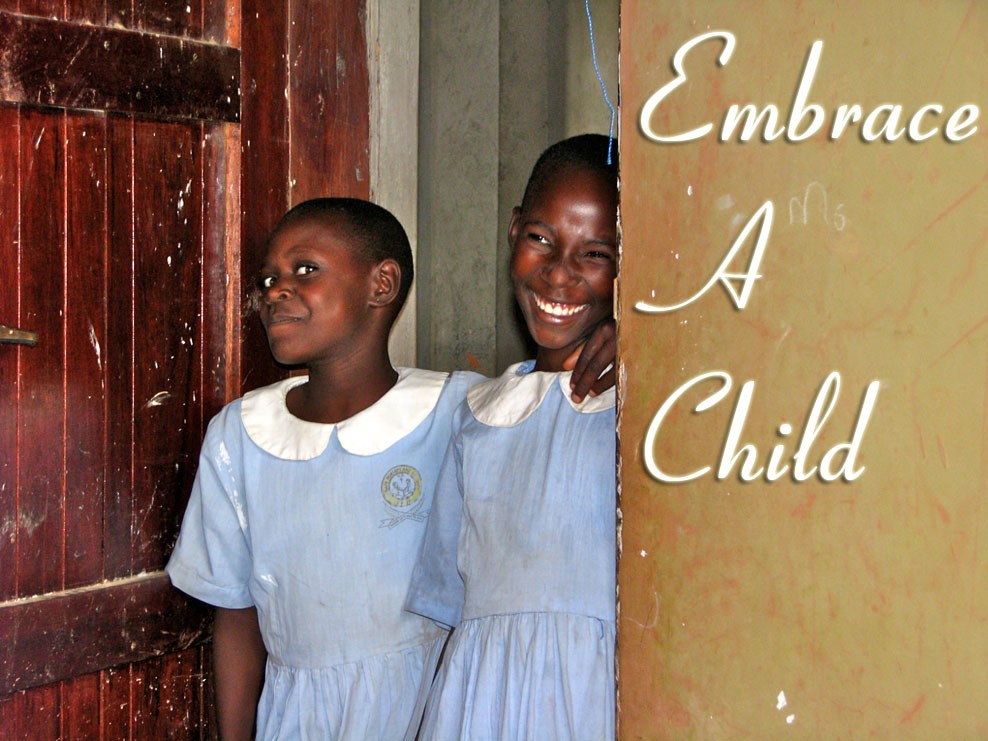 The first time I visited Uganda I lost my heart to the precious children I met. After spending a month it was time for me to return home. I asked about 60 orphan girls attending Dorcus Vocational School a question . . . "If I could do anything for you what would it be?" I was not prepared for the answer . . . "We just want someone to know our name. Do you think you could have American students write to us." The #1 thing the orphans we serve ask for, is that someone just know their name!! Imagine being 13 years old and not having someone love you!
We invite you to Embrace a Child and offer them a chance for life! It only costs $100 a month to cover all their expenses!!! Housing, food, school fees, school uniforms, supplies, transportation (think how much we spend per month for our children)! These are bright young people who can make a HUGE difference in their country with a good education. These are children for whom boarding school is a choice that can literally save their lives.
All of our Embrace Uganda scholarship students are required to do community service as part of their scholarship award. Grades are reviewed at the end of each term and our on-the-ground partners help students who are struggling.
Your family can work together or partner with another family to raise the funds, but just as important you can pray for your student, write letters, and send small care packages. Think of it as a "different kind of adoption". There are three donation options . . . The cost difference is what we save on PayPal and wiring fees. Once you "adopt" a child we will send you more information about how to stay in touch as well as send you updates.
Please will you Embrace a Child today . . .Click Here to go to the Embrace A Child page.
Blessings,
Paige Hamp
Some of you are aware that my husband and son, David participated in some humanitarian work in Uganda this summer. We have developed a deep fondness for the people of Uganda as a result.
Pennies for Uganda is my contribution towards a grassroots effort to support work being done at an orphanage in Uganda, Agape Children's Village, that is serving almost a hundred joyful children that have no place to go. The home is losing funding. They need money and soon. Every penny counts – hence the name.
Would you prayerfully consider whether the Lord would have you be a part of this endeavor? I realize there are many needs and my burden is not necessarily yours. I respect and understand that. But – if you would like to help just by getting the word out – we've made it easy. Simply add the Pennies for Uganda button to your website somewhere and include the hyperlink www.wayoflifecoaching.com/penniesforuganda/ that will point them to the Uganda webpage – everything is explained with a link to the Embrace Uganda website for further info. Basically it acts as a portal to the EU ministry.
Thanks for considering and I would be very interested in knowing why you would or would not do this as it will help me to know how to approach others.
Appreciate it!
Cheryl Scanlan
The group is gathering in the dining room at Faith's house for what smells like a delicious rice and beans lunch. We have spent the morning seeing the agricultural project at Kyongera with the incomparable Anthony (the guru of "how to be self-sustaining on an acre of land in Uganda"). Our brains are currently working overtime thinking about how to help them get water for irrigation at the project. Currently, the 14 boys who live there (who somehow sleep in six beds) must hand carry water from a site a quarter mile away to irrigate the several acres on which they are growing pineapples, tomatoes, eggplants, bananas, etc. This project has the potential to not only feed the entire Bringing Hope to the Family staff and orphans (which would save a lot of money currently spent on groceries), but become a source of revenue for the ministry as well.
While we were looking at the agricultural project, Jackie (who is definitely the child magnet of the group) zeroed in on a very little boy whose finger was badly swollen. She asked the child's daddy if Paul could look at it, and the child was whisked away to reappear five minutes later dressed up in his "Sunday best." Paul decided that the finger looked infected, and the child and dad went to the clinic. This afternoon, Faith and Richard (the clinic director and medical officer) will lance the finger to extract the pus, with Paul assisting (actually, he's a little terrified, as this is a procedure he would normally refer directly to a pediatric hand specialist because of the complexities involved).
On Monday, Teri (accompanied by Kathleen of the million-volt smile) taught an afternoon seminar on counseling women after an abortion to a staff of 22 at the Kampala Youth For Christ/Crisis Pregnancy Center. Although abortion is illegal in Uganda, the staff assured us that this training is, sadly, relevant to their work in Kampala.
Yesterday we made the long and DUSTY drive from Kampala to Kaihura (including 30 miles of torturous roadwork that would make the most fearless adventurer end up in the fetal position). After a warm reception at the ministry compound and our first village meal, we all stumbled into our various beds and fell asleep to the sounds of a torrential downpour. (In Uganda, it is considered to be a good omen when a visitor comes with rain.)
The rest of the day will be spent in various activities. Patients are already lined up at the dental clinic, and Marcello and Ann (assisted by Karin and Christine) will be extremely busy with this work for several days. Teri and Paul are preparing for the marriage seminars with the Asaabes. Jackie and some Bringing Hope to the Family staff will be receiving training from the two women from AWANA who came with us from Kampala to help Jackie start this program in the Kyenjojo area. Laine and Francis (a lawyer and a chef—go figure) are backfilling a retaining wall at the vocational school. David and Will are teaching a pastors' conference in Koreng. Kristen and Kathleen are tackling The Sorting of the Suitcases. Our work has begun in earnest!
More later, internet connection permitting…
Four hours later: Kathleen, Kristen and Teri are sweating profusely from going through more than three dozen suitcases and sorting all of the various things brought by the team. You think this sounds like a cushy job? Try going through a bazillion school packs and checking to make sure they are all equal (because dozens of great-hearted people put these together), and removing glue and scissors! It's been a long afternoon, but we have hundreds of ties, school packs, toiletry packs, children's clothing, etc. with which to bless the people of this area. It feels good…very, very good. Now they're asking us to clear the area we've been working in so dinner can be served. …
Your faithful blogger,
Teri Reisser