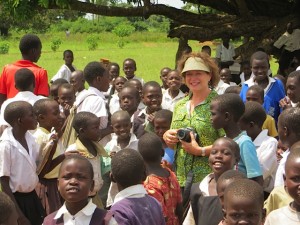 Three long days of ministry in Koreng were just not enough.  The morning after, as we got on our bus, I needed a psalm.  I opened to Psalm 16 and immediately saw highlighted verse 6:  "The boundary lines have fallen for me in pleasant places; surely I have a delightful inheritance."  Even though King David is talking about his spiritual inheritance, and relating the boundary lines to the Promised Land, it made such a present-day connection with me.  I had received a gift of new boundaries, extended lines, all the way to a new and favorite people in Uganda, in a village called Koreng.  Meeting and playing with children living in poverty, yet seeing such potential in their eyes.  Shaking hands with headmasters with little staff and resources, yet hearing such hope in their words.  Handing bowls of posho and beans to 427 school children, knowing that it may be their only meal until tomorrow, yet knowing they will wait, with patience…and a smile.
I watched each little face as they received a blanket and a jump rope and I will never be the same because of it. These were children who had nothing to call their own, ever.
Yes, boundary lines have fallen for me in pleasant places.  It may be far away, but it is a partnership that will continue.  We may speak a different language, but there is a bond that will not be broken.  We may have to work for 12 months out of the year to raise the money needed, but it is worth it.  The people from the village of Koreng are worth it.
Dorothy Bowman
Today was our last day @ Kadachar Primary School.  It was amazing to see the faith and hope that the entire community has in their future and advancement. We heard from the Head of the school and school district.  They were amazing men of god. A computer was given to the school with hopes that the administration will learn to use it and then pass their education on.  We presented each of the 500+ students with a wool blanket and either a tennis ball or jump rope.  These are staples for American schools and were received with heavenly joy.  These students are probably the poorest in the country.  The schools do not even have enough paper or writing utensils.  Each teacher was also given a bag for supplies for their class. Cate and I bonded with Grace, one of the volunteer teachers.  She took us back to where she lived.  This room is about the size of a closet for her and her family of 5.  She was a very strong woman of God who blessed us with her story and faith.  It's her dream to receive a salary and a house. The evening ended with a grand celebration and trophy presentation.  There was a soccer game that Kadachar won, they were all running and screaming in joy. There was music, dancing and singing.  It started to rain and everyone took shelter.  The rain slowed a little, so the team started running around the bus.  Soon we had most of the kids joining us, singing and dancing.  It was absolutely magical! The children were so amazingly happy, filled with the kind of joy that can only be from God.  Not having anything allows them to be free in Christ and not tied down by material things.  I will forever remember all the beautiful people of this village!
Much Love to Paw, Mimi, Caroline and Vicky.  Hope everything is good!

Diana Rogers
The last few days have been pretty crazy. Kadachar Primary School was wonderful.  The children were so interesting to watch and observe. The first time when we arrived, there were all 500-something kids standing under this magnificently huge mango tree wearing their blue uniforms.  They were clapping and singing as if we were celebrities visiting.  It made me feel like one too. All of the children were eager to hold my hand and hug me and they were just staring at us, intrigued, mostly by our skin and hair, I'm sure. Maybe not so much my hair but definitely Devon's which is long and blonde. The one thing that really got to me about some of the older girls, about our age, is that they were fascinated by the fact that I have not had any children yet and one of the girls, only 20, has had 3 children already. It's interesting that that is the norm there, even though in America, you get a TV show for that.
The second day we were in Koreng, around noon, I started to feel a little funky. At 1:00 or so, I started to get sick, then again at 1:15 and two more times by 2. That's when I thought it would be a good idea to let Dr. Dirk know how I was feeling.  He gave me a pill, which helped a little bit but not enough.  My stomach was still cramping pretty bad.  Pastor Michael then took me back to the hotel, which I am still extremely grateful for.  While relaxing out of the sun for the rest of the day helped, I still stayed behind with Ashley and Callie, who were also feeling bad. By the end of that day, I was pretty much 100%.   Then I was very excited to hear from my dad that I got a call from mom!   "Mommy?!" Instead of mom it was none-other than Corey, my boyfriend.  I immediately started to tear up and within one minute of talking to him, I was trying to talk to him through my many tears.  I was SO happy to hear from him. I got to the table and my dad told me to share my favorite part of the day, I started crying again.  I was pretty psyched, and a little bit embarrassed.
The next morning, I woke up good to go.  We started to make our way to the city of Mbale where I bought a bag of knock-off Teddy Grahams, two bags of M&Ms and some Fanta. All of which are long-gone. We stopped at a coffee factory where a bought a bag for my mom, me and whoever else wants to try. We then arrived at Rena College where we ate lunch (rice and beans- no surprise there), watched the girls dance, played soccer and volleyball, and gave out quilts.  The children, most of them between 13 and 18, spoke much better English than the younger kids at Kadachar. It was really fun singing Justin Bieber and One Direction with them, most of which is still very much stuck in my head. This evening has been wonderfully filled with rice, avocado, and Portugal winning.  It is now time for bed, and here is where I will apologize for any grammatical mishaps, for I am 75% asleep.
Goodnight, Mom, Corey and Evan, I love you all and I miss you.
Isabel Sweere
This is my first time in Uganda (I am staying a month) and it is truly a blessing. I love it here! The people here are so hospitable, kind, and warm hearted. I've enjoyed driving and being able to view the country as well as getting to know the people that live here (I've even picked up pieces of some new languages!). I have loved this whole week, but yesterday was definitely the best so far.
Yesterday was almost like Christmas at Kadachar Primary School. I think my favorite Christmas present ever had to have been the Christmas where my parents said, "Kids, we're going to Disney World!" I remember how excited we were to finally see our favorite Disney stars, and ride on Dumbo and in the spinning Tea Cups. But honestly, I don't think even the excitement of my brother sister and I could top the excitement I saw yesterday at Kadachar.
Our day started off in the morning with a speech from Head Master Steven. I don't think I have seen anyone more passionate and hopeful for their school. He talked about wanting to get electricity for the school, building housing so some of the students did not have to walk the miles back and forth, encouraging better home environments so students are able to study and not drop out, and overall improving the educational experience for their students. He really believes in Kadachar and the children that go there. So Embrace Uganda wanted to encourage them in their vision.
We gave all of the teachers book bags and supplies, we gave them a first aid kit and enough medical supplies to keep it stocked, and (the grand finale) a laptop, so that Head Master Steven could spread his knowledge and computer skills to the teachers and students. The teachers were overfilled with joy, jumping up and down, clapping, and dancing. . . all over these things that most schools in America take for granted.
It didn't stop there. Because of all of your donations we were able to give all of the children blankets and a jump rope or a tennis ball. They were so excited you would have thought it was Christmas morning. They played for hours with their new toys, and when it began to rain that night and all of them began to walk home cold, I had a bit more comfort knowing they could wrap up in their new blankets. Their patience, love, and gratitude were overwhelming. It was very hard to say good-bye.
I want to thank all of you who have donated to Embrace Uganda or supported our team to come here. We get to see all of these joyful children even a bit more happy because of YOUR help. Also, thank you to all of you who are diligently praying for us. God is doing great things here in Uganda and I cannot wait to see what He does through the next few weeks!
In Him,
Devon Karst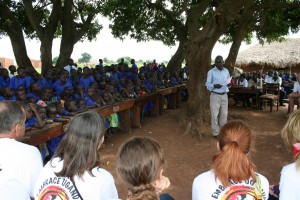 Another incredibly memorable day in an Africa kind of way.  We returned to Koreng this morning to spend the day with the children at Kadachar Primary School.  Early on, we met with the teachers and listened to Steven, the headmaster, as he recounted the last four years of growing a school from a group of children and teachers meeting under a tree, now one of the leading primary schools in his district.  He gave credit to teachers and parents, but also acknowledged that the partnership with EU clearly has put Kadachar on the map, and that the government has started to pay attention.  He then outlined the challenges ahead. For Kadachar students to be competitive in the future, they may need to create a youth hostel to provide study space for students who at home are distracted by chores and circumstances.  They may need to get connected electronically; teachers will need to become computer literate.  Latrines and additional classroom space are needed.  But Steven is a man with a vision, and he exudes optimism.  We are humbled as we give the teachers gifts out of our overabundance, to be answered by incredible gratitude.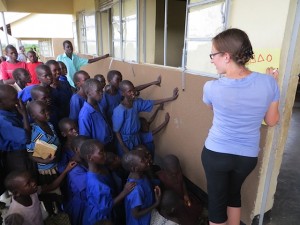 A little later we prepare to give presents to the children.  Everyone is to receive a blanket and either a jump rope or a tennis ball.  Again, it seems as a mere token when we think about the resources that our children have.  To them, however, it is the gift of knowing that someone is even caring enough to come and visit, and that gift often takes them from having nothing to having something.  So, the excitement is great as they line up and our team embers climb on top of the bus to take pictures.  These children can cheer like no others.  It was an awesome time of joy and sharing.
Some of us visit a couple of other schools in the area to take book bags to teachers.  We find out that a neighboring elementary school receives $100 per month for all of their budget needs outside of teacher's pay; $100 to provide over 700 students with daily needs such as scholastic materials, administrative costs, maintenance and equipment.  The children have to bring food or won't eat. A whopping 2/3rds of students do not advance from sixth to seventh grade.  75 % of all students do not go into secondary school.  They return to the village without any significant chance at a future. As we leave, our minds go back to the children we just saw.  How can this be?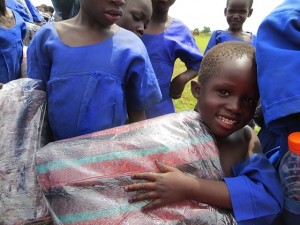 We briefly visit the drill site where the new well will soon provide clean water to hundreds of villagers.  Nine meters to go.  Waiting for diesel fuel for the equipment.  So excited to see this happen.
Back at Kadachar, all the students have been examined and the waiting space has been filled with young mothers and babies.  The medical officers do their best to see them all, but eventually, a line is drawn for the day, leaving many waiting for another day.
The highlight of the afternoon is the final game in the soccer tournament between three neighboring schools.  They play with energy and zeal, eager to take home that first trophy of its kind in this area. Kadachar prevails. The celebration is memorable for anyone watching.  A sea of blue school uniforms descends on the players and you would think they just won the soccer world cup . . . unbelievable joy and celebration. All of a sudden, the skies open up and it pours down in African proportions.  Many comment on HOW BIG those rain drops were.  Many are forced to seek shelter on the porches of the school blocks.  On my porch, two muzungus and two hundred of our African friends with no space to spare, laughing and enjoying one of those moments that we will not ever forget. As soon as the rain lets up, the celebration continues with hundreds of children racing around the vans where the rest of our team had found shelter, singing and dancing, led by our very own Sam Tusiime and Matthew Poole. . . . Again, I imagine it will be difficult for anyone to really grasp the feel of these extraordinary moments as they could only happen when you are surrounded by hundreds of unencumbered African children. . .
Eventually the formal part of the ceremonies is moved into a classroom.  Very good things are said.  Players are rewarded; a trophy is given to the winning team.  Local leaders express appreciation. We will miss the enthusiasm of these wonderful people.  The rain starts again, as hard as before.  Eventually, our team dares out to try to make it to the vehicles.  Soaking wet, we make our way home.
Torrential rain is dramatic by itself.  Combine that with Ugandan mud roads, and you have a very unique experience. It looks like a river of dirt coming your way as our very good drivers find the way back to the hotel for the night.
Wow.  We will long remember this day.  For the fun, the soccer game, the schools, the blankets.  But most of all we will long to be back to look into the smiling faces of our young friends and to listen to the genuine laughter of dancing children.
Dirk Hamp
My t-shirt is soaked with rainwater, sweat, snot from babies, and tears. My jeans are hanging on only by a loose, damp belt due to the downpour. My sandals are gone, having fallen apart. My rain jacket is no longer mine. My face is stained with dirt, perspiration, and more tears. But my heart is happy.
In the midst of a ceremony commemorating several days of intense soccer competition among a handful of schools, huge raindrops began to fall from the sky. People were scrambling everyone. Babies were being picked up, mothers grabbing their children and scooping them under homemade, thin cloth blankets. Rain kept falling, and falling, and falling. Harder. Faster. Nearly two hundred Africans and a handful of team members were cramped under a space with the square footage of my bonus room. Babies were screaming, toddlers shaking from the cold rain. Sounds miserable, correct? Far from it. In the midst of all the chaos, the fields and crops received the water they needed so badly. Cramped together, I made new friends and even had a five-year-old little girl, Fiona, fall asleep in my arms. I tried to keep her as dry as possible, turning my back to the rain so she wouldn't have to bear the front of it. I grabbed young children on the side of the building, pulling them into the shelter, tickling them and hugging them so they might forget about being chilly for just a split second. Their smiles are what motivate me. They light up an otherwise reserved face. Being able to offer a child the love they might not receive at home, even if only for a moment, is worth every soaking minute.
I ran in the pouring down rain for our team's van, realizing my Ugandan sandals had ripped. I barefooted (not a word…I know) it African style in the mud, grabbing my rain jacket and searching for the coldest, wettest child I could find. I wrapped him in the jacket, zipping it up. Tears came to my eyes and ran down my cheeks as I looked at this boy, who couldn't be more than eleven, enjoy the warmth of a jacket he had never seen before. Sure, it had flowers and "girly" décor, but it was my gift to him. (Later that night, I saw the same little boy, still wearing the jacket just as I had zipped it up, even with the hoodie up!)
After a couple members of this year's missions team got out of our bus and began to run around in the rain, the kids and I stormed out from the porch onto the soaked, muddy field. We danced, sang, and ran until I had to stop and catch my breath. In that moment, I lost it. I was in hysterics. In the pouring down rain, children gathered around me, wondering why I was crying. Questions flew through my mind. How could I leave these children? More so, how could I love these children with all of my heart without even knowing some of their names or their language? How could I leave the babies I had cuddled with for so many hours? Hours later, after much reflection and a tear-filled goodbye, I rest in the peace that is Christ. I rest because I know that even with all the incredibly difficult sufferings of this world (and while we should try our best to alleviate the suffering), there will be a day with no more tears. . . with no more pain. . . with no more fear. What a blessing! So, for now, I pray for these children. And I lay the rest at the feet of the One who gave them breath.
Jessica Hofer
Last year, a second site for a fresh water well in the community of Koreng was identified. Six months ago, John Wooten from Wake Forest Baptist church recruited four Triangle Area Rotary Clubs to raise funds for this well.  Just last week, we were notified that the majority of these funds had been raised, and with a single supplemental gift, all the resources are in place to build the well.  That was last week. . . Today, our team witnessed the drilling of this well.  They expect to find water in the morning, and for the well to be in operation within a week! That is an amazing turn-a-round and a testimony to our partners' faithfulness in implementing the projects to which we have committed! Thank you to those who have helped make this possible!! The people of Koreng are so impacted by your willingness to share!!
Dirk Hamp
Today was such a day to remember why we are here.  This partnership between Embrace Uganda and the village of Koreng began five years ago when some of us visited for the first time.  This is where our friend Michael Okwakol was raised.  Today, it still is a rural community with typical thatched roof home places in savannah like surroundings.  An area marked by floods and famine over the years, a part of the country forgotten by the Ugandan government for many decades.
Four years ago, we first visited Kadachar Primary School,  there were 400 children at the time, meeting under mango trees without school rooms, desks or chalk boards.  Children drew their math problems into the dirt. When we talked to the village leadership back then, they promised to work hard to help advance their community as we would come alongside them to support their efforts.
A year later, EU teams helped with scholastic materials and chalk boards for the children. Teacher's homes were constructed, and we committed to support the teachers' salaries.  The Ugandan government started to pay attention and has since built a couple of school blocks. However, getting through a whole day of school was still a challenge because the closest source of water was miles away.  In 2010, a fresh water well at the site of Kadachar Primary school was completed through EU fundraising.
The school that we saw today is a remarkably different place from what we saw just a few years ago.  The principal, Steven, was beaming when he talked to me about his school and what he hopes for the future.  570 students now attend.  Some have been able to pass their exams to be allowed into secondary school, which had never happened before.  Stephen faces many challenges in his efforts to take care of his students.  Kadachar is 45 minutes from the main road.  He hopes that soon, with the help of solar energy and computers, his ability to support his staff and his students could improve further as it would open up doors of communication and access to educational resources.  It would take only $5,000 to provide a solar panel that would light up the entire school block.  It would be the first time most of the students at Kadachar would experience electricity!
Today was like a homecoming as everyone showed up for fun and games.  A soccer tournament between Kadachar and Koreng Primary schools was kicked off this afternoon.  Meanwhile, we began medical clinics to screen all of the students while we are here.
Dirk Hamp
Wow. What a day. It started bright and early (6 am to be exact) with a walk to see the sunrise. Of course, it was a cloudy day and no sunrise was to be seen, but several of us were able to interact and connect with some of the people of Mbale.
Fast forward to 10:30. After a two-hour drive showcasing some of the most beautiful countryside I've ever been blessed to see and the most beautiful, little waving hands, we arrived in Koreng. Greeted by nearly 570 children, from the smallest of ages to older children, each was more eager to shake your hand than the prior child. Their tattered clothes and shoeless feet were not evident in their bright, sincere smiles.
The hours between 10:30 to 7:00 were some of the most fun-filled, yet challenging, hours I've ever had the opportunity to spend. Encircled by little boys and girls pleading to know your name, I surely shook well over 300 hands, tattered by the hard life they live. Children in such impoverished situations would surely be sad and reserved, would they not? One might think so. But that simply could not be farther from the truth. I have never seen more smiles, heard more giggles, or held more hands. We played, ran, skipped, sang, and tickled until our cheeks were exhausted from all the smiling. Aghast at my translucent skin, they eagerly yearned to touch my arms, marveling over the veins running through my arm.
Maybe it was the baby that fell asleep in my arms. Maybe it was the man who asked me if I was going to adopt said baby (named Helen). Maybe it was the way the kids long for you to notice them, to know their names. Or maybe it was serving posho and beans to hundreds of hungry children. Whatever it was, it made for an incredible day. Today showed just how much love we can give.
Jessica Hofer
Today was the 1st day for us to get to minister amongst those living here.  We traveled to the very rural town of Koreng.  It was an amazing time to see all that has been done here.  Those who have previously traveled here explained that 4 years ago there was only a mango tree.  School was held under the mango tree for the local village children.  Today there is several large buildings, and over 500 hundred children attend school there.  There is also now 1 well, and a second one in the works, to provide safe water to the thousands of people in the village.  The mango tree still stands as the main gathering area for the school.  We had such an incredible time playing with the children, feeding them, and just sharing Gods love to them.  Most of the children had never even seen white people.  As soon as they saw my long hair, I had at least 15 little kids playing with my hair and laughing.  The children also love to show affection back by tickling you and making you laugh.  Several of the children kept calling me their friend. It was so touching to see it mean so much to them. These children were the happiest children I've have ever seen.
Diana Jones