In Koreng today, we delivered mattresses to the aged of the community. We would go to their small round thatch home, remove their old bedding, place their new mattress, and dress it with new sheets. Then we would pray for them. One 83-year old man prayed, "God, thank you for these children. May I die before they do, that they may live on." He said he had nothing to give us but a prayer. That was more than enough. It has been a while since anyone referred to me as a child.
We also distributed new school uniforms to the children at one primary school. A classroom was converted to a boys dressing room, another to a girls dressing room. We helped them with sizing. Naturally, the girls took over twice as long, apparently very concerned about getting the right fit.
Since arriving in Uganda on Saturday night I have felt nothing but joy in my heart!  It's been 5 years since I have had the chance to return and it is just as I remember it.  It's filled with beautiful and welcoming facing, loving friends, and amazing experiences to come. Sunday we traveled all day to Kumi and arrived extremely late at night and it was obvious we were all in need of a good night's sleep! Unfortunately Monday morning I woke up before sunrise and couldn't return to sleep. Now if you know me you know I REALLY enjoy my sleep, so normally I would be extremely frustrated by not being able to fall back asleep. I soon realized, "Hello you are in Africa, take advantage of this!!".  So I got dressed, grabbed a flashlight and my journal, and walked downstairs to the lobby of our hotel. The sun was just starting to rise and everything was quiet except for a few children, every couple of minutes, making their daily morning walk to their schools.   It was so peaceful to sit in the front drive and watch the sun slowly rise while some bright faces walked by, waved, and giggled. Soon the hotel staff started to arrive and it felt nice being there to greet them.  They were all so welcoming and willing to ask how I was doing and where I was from.  No matter where we seem to travel in Uganda, one thing seems to remain the same, the people here are so willing to befriend you and learn your story and that is so refreshing.  The events of this morning really made me realize that some things in our life may be presented to us as annoying or inconvenient to begin with, but sometimes they are for the better and God just has something different in store for us.  I continue to wake up every morning grateful for this amazing and mesmerizing experience. My heart really feels at peace being back in Africa once again.  This journey and the people I encounter on it continue to amaze me every day, and for that I am so thankful I still have time left to enjoy it!
"You can make many plans but the Lord's purpose will prevail"
Kaitlin Murphy
I cannot begin to express the amount of happiness that has been present in my heart since arriving in Uganda. The love that transcends all understanding is so present; I have seen this in children's eyes, from the handshakes, laughs, and tickle fests.  The Lord's presence is overwhelming and incredibly beautiful- and His sweet truths are being revealed in each moment here. I am incredibly humbled and overjoyed that the Author of the Universe would choose to send me- an unworthy sinner to share His love and truth; and even more blessed that He does not see those blemishes but Christ's righteous in my place. He is the reason that I come, He is the reason I sing and dance and smile even when language barriers try to hinder the work being done. Psalm 24:1 says, "The earth is the Lord's, and everything in it, the world and all who live in it." The reminder that everything in this world is His- the people, the creation, all of it is HIS!  God has been transforming the desires of my heart to match this; and right now this means serving, as well as making his name known in Uganda.
Haley Harris
It has all been quite a blur since we got here.  Even in preparing, God's hand was evident in everything from funding to making the time to pack.  But there was nothing that could prepare me for the face of God's precious children.  Each day here has revealed the deep fathoms of the love which the Father has for His children and His people.  Working at the school has been an experience for all of us.  The first day at the school consisted of sweet greetings from each group.  Among our initial interaction with the children included the singing of national anthems (ours amounted to a very interesting compilation of the Star Spangled Banner).  After intro, myself and several others were able to organize recreation games.  This consisted of 200 child duck, duck, goose, as well as cat and mouse.  Both were extremely fun and extremely intense.  Directly following was a tickle party with 4 white people and 500 or so children.  The day was exhausting, but what a joy to be with all the children!  Today I was able to assist Haley and Mama Dot in storytelling.  It is always a blessing to see the Gospel being presented well.  I know that the words spoken will carry well with the children.  Haley's telling  were incredible, as well as Mama Dots paintings.  Although I was super nervous, I played guitar and sang for all the children.  We had a great time together in worship.  It is evident through the interactions we have been blessed with, that the Lord truly loves his children here.  We are so excited that we can be witnesses and messengers of His great love on this trip.
Ben Young
Today was a full and exciting day in Koreng. The team divided into 3 groups and worked with 2 schools. One group was with the medical group at Kamailuk Primary. Almost all of the more than 600 students, 5 out of 7 grades have had medical check ups. Quite a few were treated for Malaria. The other 2 groups taught lessons and played games with the 600 students at Kadacar Primary. We served hot lunch of posho and beans to those students. They had never seen or heard a guitar before so it was quite a treat for all of them to sing songs with Ben and his guitar. The team is fantastic and full of energy and compassion. We've all made many friends here.
Dorothy Bowman
The Embrace Uganda Mission team has safely arrived in Kampala yesterday and attended Agape Baptist Church today. After the morning service, the team traveled to Kumi which is in the Koreng area. They will be spending the next two weeks conducting medical clinics and spending time with the students at three primary schools. The annual Embrace Uganda Soccer Cup will be held there, where the three schools play against each other to see will be this year Embrace Uganda champion.
Thorsten Hamp
I recall the feelings of uncertainty and anticipation I had a year ago when thinking of traveling not only out of the country for the first time, but completely across the world with a group of people I didn't know. My dream had always been to be a missionary, which was quite ironic for a homesick girl like me. I was the kid who cried and went home at all my friends' sleepovers. As I matured that fear somewhat dissipated, but it never fully went away. So in light of that, why was God sending me to Uganda? Of all people, why me? I began to feel like the little girl in the corner all over again.
The day before leaving, I was almost sick with anxiety. I sat outside of my house in the pouring rain, questioning why God was sending me on this journey and if it was all a mistake. When suddenly it hit me out of nowhere…He was sending me because I couldn't do it. He chose me to go because I was willing and unable. To many, this may seem like a hopeless mix of emotions; to God, however, it is the perfect combination to show a humble servant how powerful He is. God uses the weak and unable to prove He is strong. Soon I was filled with the joy and peace of Christ, knowing that He was going before me and had this in His plans for me since the beginning of time. Clinging to this hope and assurance, I boarded the plane headed for Kampala, Uganda.
God used this trip to not only show me His power, but to confirm His calling on my life to be a missionary. Though Uganda may not be my final destination, I know that I will go wherever He calls me to share the love of Christ with others. In his love and mercy, God is allowing me to return to Uganda in just a few short weeks. As the time is drawing near to head back to the land of the red dirt roads and smiling ebony faces, I can feel the excitement resounding in my bones.
The love I feel for these people is something I have never experienced, and I cannot wait to embrace my sweet friends again. As silly as it may sound, I still feel a little nervous when thinking about going back. I used to view this as weakness, but now I instead think of 2 Corinthians 12:9, "And He has said to me, 'My grace is sufficient for you, for power is made perfect in weakness.' Most gladly, therefore, I will rather boast about my weaknesses, so that the power of Christ might dwell in me." With this in mind, I, a willing and unable servant, will soon be reunited with the most beautiful people I have ever met, and my heart is filled with joy and thankfulness.
Jamie
Our 9 year old son Joshua and his neighborhood friends are quite the little entrepreneurs. The latest kid crazes are rubber band bracelets called "Rainbow Loom". These are small colorful rubber bands that are "loomed" together into fashionable bracelets, rings or necklaces (there is also at least one dog collar owned by our dog Braylin). Joshua and his friends decided to make some and to sell them from our driveways for a few dollars and cents. They made signs and are out there rain or shine selling bracelets. Some of the kids are in my garage making them and other take turns flagging down passing cars and are selling them.
Sometime after Embrace Uganda's annual event in November, Joshua decided that he wanted to give his proceeds to the children in Uganda. His friends joined him and now what was a simple child's play became a fundraising effort to help children in orphanages in Uganda. Since November, Joshua and his friends raised $130 selling bracelets for pennies. I promised Joshua that I would match the amount with whatever he and his buddies raise when he is done. Well, here we are in January and they are not done selling yet and we are watching with excitement the efforts of our neighborhood children having a heart for children in Uganda who have so little, especially at Christmas time. Thank you Joshua, Zachery, Cole, Conner, Nolen, Carlie, Claire, Jonathan, Laura and Alison!
The first check of $260 is on it's way to Embrace Uganda. I am amazed of my son's heart for the Ugandan children and his ability to get his friends to join him in this cause.
Thorsten Hamp
Why did God choose me to come back to Uganda? This is a question I've been asking myself throughout this trip, and one that I will continue to explore as I reflect on my experiences. I have been to Uganda before, so I have feelings attached to each person and each place; I play favorites – whether I should or shouldn't, I know that I do. I have certain regrets, disappointments, hopes, dreams – I came on this trip with baggage, and not just the 50 lb suitcases that we brought along. So why, with all of these things considered, would God choose me?
I am not seeing this country with fresh eyes – but I believe that this is purposeful, a part of God's plan. Because I have been to Uganda before, because I have memories and feelings attached to the trip, each step of the way, I am able to see things differently this time – through a different lens. God uses my baggage to teach me a lesson, and to work for His glory – He can use even me, someone who is neither equipped nor able on my own, and equips me with the resources and the heart necessary to reach His people and to accomplish His greater purposes.
Above all, I believe the Lord brought me on this trip as a testimony of His extreme faithfulness and love. He brought me back. He allowed me to see brothers and sisters that I met three years ago, and He allowed these relationships to remain unchanged, and in fact to be stronger than ever before. He brought our hearts closer together as the distance brought us farther apart. Our heart for relationship mirrors His own – and if our earthly relationships can remain unchanged over time and space, how much more will His love for us remain constant? God is faithful. He provides what we need. He brought me back, and allowed me to see His love reflected in the eyes of my brothers and sisters. He reminded me that I have family in Christ all over the world. My heart is so filled with love and amazement when I think about the purity of the friendships I have with my family in Uganda – and if this is something I can see on earth, I cannot even grasp the magnitude of God's great love for us!
Faith is being sure of what we hope for and certain of what we do not see – I am sure that my Ugandan family will indeed be family forever. I am certain that my love for these sweet people will remain unchanged. And I am confident that this is only possible because of the great faithfulness of our God. I know that I will be back to Uganda. I don't know when, or how, or exactly where, but God used this trip to remind me that He is faithful, and He will protect relationships which glorify Him, which reflect His love into the world.
I am so thankful that I was able to return to Uganda. I am so thankful for every moment of this trip, even the moments where I was uncertain of my purpose. Even when I felt like I was not changing anything, or anyone, I know that God was preparing my heart for something greater (for anything He plans is greater than what we come up with). And I am thankful for this testimony of faithfulness.
Only be careful, and watch yourselves closely so that you do not forget the things your eyes have seen or let them fade from your heart as long as you live. (Deuteronomy 4:9)
Laura Levine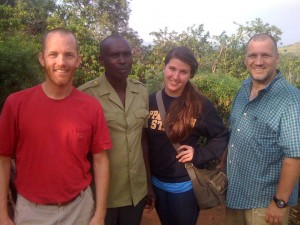 Today was our last day here in Uganda before heading back to the US tomorrow. It was bittersweet goodbyes for everyone. The ones that have been to Uganda had to say good bye to old friends and the ones that came for the first time had to say good bye to new friends they just made.
Coming to Kaihura is special for me since our family is uniquely connected to the community here. My niece, Jane Hamp, is from this village and her grandfather and other family members still live there. It's always a highlight for me to climb on a Boda-Boda and take a 40-minute ride into the hills to see him. The ride starts off on relatively wide dirty roads and gets steadily narrower until you literally end up on a hiking trail. We had to leave the bikes behind and hiked several hundred yards to Jane's grandfather's house. His house is a mud/stick hut with a metal roof. There are a few dogs around, some cows and chicken. His life is very simple, but he dressed up in his Sunday's best and prepared a comfortable place to sit under a tarp and to talk for us. Bruce (Jane's Uncle), Emma (Jane's Sister) our trusted friends Sam and Amos and I rode up today.  We tried two days ago, only to find out he wasn't there and decided to try again before we were leaving for Kampala early in the morning. We could not have picked a better day. The Sunrise was awesome and the temperature was cool.
The visit was short, but filled with warmth and gratitude. He wanted Jane to know how much he loves here and how appreciative he was to the Hamps, who adopted Jane. He was pleased to hear how well Jane is doing in school and I could tell he was glad we sought him out on this trip.
During our visit with her Grandfather, we learned that his elderly neighbor gave him his land in exchange for working the land for him. The Grandfather showed us a new area on the farm where he hopes to build a new house for his family. This location will allow him to add a road, so nobody would have to hike to his place in the future.
It was so good to see him again and I hope we get to visit often in the future. It was a special time for sure.
The rest of the day was spent in a bus heading back to Kampala. I am however amazed how beautiful this country is and how wonderful the people of Uganda are.
For a final note, this trip was amazing (again). The team this year was one of the best I have ever been with. We accomplished so much in the short time we had in Koreng, Kadacar, Agape and Kaihura. We played with the kids, held babies, watched soccer matches, served lunch to 600 or more kids several days, sang songs, painted a church, attended church services and got to be part of the ribbon cutting celebration of the Hope Again Medical Center, Kaihura Uganda.
There is still much to be done and many lives to be touched.  I give thanks to God for a wonderful time here and for his protection over all of us.
Thank you so much to the readers of this blog, thank you for your prayers and for being a part of our journey this year. We are not finished 'embracing' the people of Uganda and will continue to encourage and empower a generation of orphans, one village at a time!
 Good night everyone
Thorsten Hamp