Good morning,
I just spoke with my brother Thorsten. The team is well. After their arrival, they went to a cafe for lunch. They settled into Motel Olympia in Ntinda on the outskirts of Kampala which has been our usual spot for the last six years. We know them and they know us. They called it a night. Smart move after 30 hours of travel. Thorsten said they had a wonderful service at Agape Baptist Church this morning, which is Michael Okwakol's church. Embrace Uganda has partnered with them from the beginning.
Now they are on their way to Mbale and Kumi, in Eastern Uganda, near the village of Koreng. They will have Ugandan drive-thru lunch, which means chicken on a stick, grilled plantains, chaparti which is a flat bread, all sold by street vendors, by the side of the bus, through the windows, quite an experience…
All team members are well and in good spirits. Thorsten and Bruce are wearing their hats:)
Look for first blog entries from the team tonight!
Happy Father's Day!
Dirk Hamp
Our 2013 mission team has arrived in Entebbe, Uganda. They have all cleared customs. All of the bags are there and they have met up with our friends and partners Michael and Hannington. According to Thorsten, the flights were good. All team members are healthy and in good spirits.
They will update us again soon and send pictures:)
Dirk.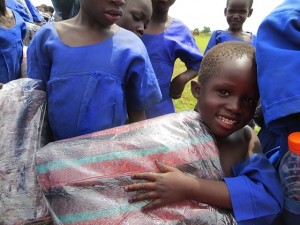 Please, visit frequently. In the past we have found that the stories and pictures contained in these pages have helped much to tell the story of the people we meet in Uganda. On several occasions, a single experience has stirred the hearts of people to help and make a difference while the team was still on the ground. We continue receive financial support for team projects through our donation page on the main website.
Please check here for team updates even as they are on their way to Entebbe, Uganda tomorrow.
Dirk Hamp
Tonight at 8 pm, we will conclude our contest for raising funds for orphan related projects in Uganda. Our team will leave early in the morning with members staying between two and four weeks to serve. If you would like to contribute you can still do so at http://www.embraceuganda.org/content/mission-2013
Good morning Embrace Uganda Family and Friends!!
A week from today our 2013 Mission Team heads to Uganda! It is another fabulous group and they have lots of exciting projects that will make such a difference in the lives of those we love!
One very exciting project is that they will attend the Grand Opening of the new Hope Again Medical Clinic that all of you helped make possible.
Tomorrow morning the incredibly talented Ryan Keith will be set-up to video messages from those of us unable to go on the trip this year. If you can spare 30-45 minutes of your time to come out it would be great. Please share this with others that are not on this list!!
Here is the location info:
Embrace Uganda Video Shoot
10:30 am – 12:00 noon
Joyner Parker
701 Harris Rd, Wake Forest, NC 27587
Thank you in advance for coming out to support our friends!
Much love to you all,
Paige
The Embrace Uganda Summer Mission Team 2013 has less than two weeks before they depart for Uganda. The team will be serving the communities around Koreng, Agape Children's Village Orphanage and Bringing Hope to the Family Orphanage in Kaihura, Uganda. Please check this blog for posting from our team and to follow them throughout the trip.
Embrace Uganda Team
It takes many resources to meet the demands we face each year in Uganda. BUT…the CHALLENGE has been taken on by two team members and a head-shaving contest!
THE GOAL: Raise as much project money for Mission Uganda 2013 (see project list above).
How it WORKS: Whoever raises the most money by June 13 WINS and gets to keep his hair. The other, no hair, shaved head! The tally will be done the night before we leave, June 13. The loser sits, while the winner shaves the other head, simple as that. Oh, and pictures WILL be posted! ☺
If you particularly wish to see Bruce bald, then give to Thorsten. And vice versa!
This is all in fun for sure, but most importantly it will help us finance our projects and bring hope to many! You can make donations online at by clicking here or if you prefer to send money by check; make it out to Embrace Uganda, in the memo write "Head-Shaving Contest – Thorsten" or "Head-Shaving Contest – Bruce" and sent it to P.O. Box 742 Wake Forest, NC 27588. All donations are 100% tax deductible.
Merry Christmas and a Happy New Year from Embrace Uganda. It's still time to Donate to Embrace Uganda before 2013. Embrace Uganda is a 501 (c) (3) organization and your donation is 100% Tax deductible. Got to www.embraceuganda.org/content/donate to find out how you can make a difference in a child's life.
Sincerely
Embrace Uganda Team