It's in the middle of the night; most of the team has probably gone to bed by now. The quiet night in the bush and in our hotel gives me the stillness to reflect on what I have experienced these last couple of days.
I watched the team interact with the children through the lens of my camera. Walking around taking pictures and video taping attracts a lot of attention and I am constantly surrounded by 15 to 20 children of all ages wanting their pictures taken and then wanting to see the pictures of them in my camera's LCD screen.
I met a young man; his name is Emmanuel Akope (13 Years old) who was a constant companion. He wanted to show me where he lives and what his life is all about. He showed me his thatch roofed round house (hut) he lives in. He showed me his battery powered LED lamp that he was so proud of. He wants to become an engineer someday. This young man wanted me to know his name; he wanted to know what life is like in America and all about my family. We spend the better part of the day walking around the village and school grounds just talking. Building relationships is what it is all about.
Today we got to do something a little different. One of our team members is starting a ministry (Sweet Dreams) providing mattresses to people that don't have any. We kicked off  her ministry by delivering and setting up mattresses including bed sheets for elderly people that are older than 70. We met a woman (Dorothy) who was 98 years old. She never owned a mattress her entire life and slept on the dirt floor of her hut. She greeted us with open arms and fell to her knees to thanks us individually for this gift of a mattress. It was clear she did not expect a bunch of Muzungus to show up in her village and home to bring her a mattress. It touched me deeply to see this woman filled with such joy and gratitude.
Emmanuel and Dorothy, two people on opposite sides of their life spans. Both have incredible needs and they are just two people representing millions of people here in Uganda. What an incredible experience this trip has been for me already. I wait with anticipation to see what tomorrow will bring.
BTW, I plan on staying in touch with Emmanuel and follow his progress in school and hopefully he can reach his goal of becoming an engineer someday.
Thorsten Hamp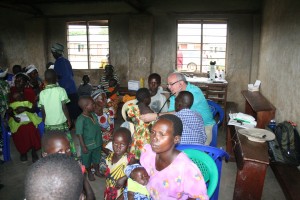 Today I got the privilege of working with the medical team at the primary school in Koreng. The medical need is monstrous, but what really caught my attention today is the need for new clothes. Though the children are smiling and joyful, their clothes are tattered, buttons are missing, holes are ripped in the shoulders of their shirts, and the skirts are held together with a safety pin. A lot of the boys are wearing skirts as well due to the lack of shorts. It is very obvious that these outfits have been handed down time and time again. It is very humbling to see the laughter and complete contentment on these children's faces, but it takes an outside eye to really recognize the desperate need that's there. The Lord has been bringing the images of their tattered clothing to my mind time and time again, and I feel that it is important to start focusing on these sweet children's uniforms. I am planning to start various fundraisers, possibly even plan a 5K, to raise the funds necessary to help give these children shirts that have more than two buttons still attached, and skirts/shorts that are not frayed and ripped. Regardless of my efforts, I trust that God will move in the hearts of people to help with this need because He desires to see His sweet African children provided for.
Jamie Riley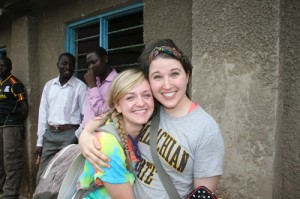 Editor's Note: Jamie, your experience is so much like ours every time we travel to Uganda. Last year, a family was moved to help provide new uniforms for the children at Kadacar Primary School. They were delivered recently. I cannot wait to see what you will do with "Clothe Koreng". And maybe someone else will take on the third school in that area…This exactly how having people travel with us helps to raise awareness…
Here are some Kadacar kids in their new look!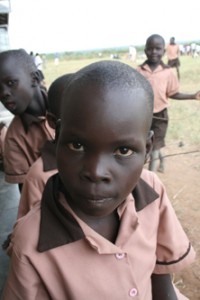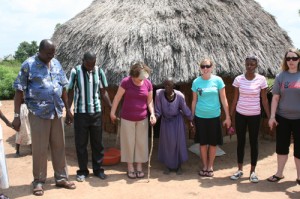 Having traveled the world over, the overwhelming poverty in Uganda is not new to me.  I have seen it in equal measure across Iraq and Afghanistan during numerous trips to both.  Likewise, the children in the cities and villages are just like the children around the world.   Our new faces, from a different country and region of the world, are a novelty to any child, anywhere in the world.   I find they are curious about you and equally eager to meet you whether Ugandan, Iraqi, Australian or Afghan.
What has been very different in the small villages of Uganda is the hospitality of the adults and particularly the village elders.  All are eager to meet you, introduce themselves to you and, with someone able to translate, ask all about where you are from, your children, your home, etc.
Today we delivered mattresses to village elders who were 70 or older.   Most of whom have slept on the ground their entire lives, with little more than a bamboo mat and a blanket to call a bed.  One woman, age 98, received us with shouts of joy and dancing as we entered the courtyard of 5 mud/brick cylindrical homes with grass thatch roofs that was her home.  She was overjoyed to see the young ladies in our group and wanted to thank each of them personally for the gift we provided them.  As we were leaving her home, in a gesture of sincere thanks, she shook hands with each one of us……… from her knees.  Never will I forget the look on the old lady's face when we arrived at her home.
Bruce Paterson
"Sweet Dreams"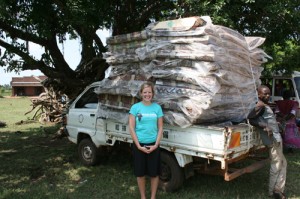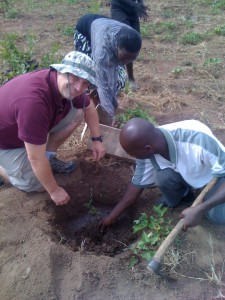 Team Uganda 2013 consists of two couples, 4 in their 40's & 50's, 8 wonderful 20-somethings, and 4 mature high-schoolers.  Just today we partnered with our Ugandan friends in Koreng and accomplished much:  145 trees were planted, 4 faith and integrity lessons were taught, 680 hot meals were served, over 300 medical check-ups were given, and 1 metal roof was put on a teacher's new home.
This tells so little, though, of what really happened today.   Names were learned, hugs were shared, relationships were strengthened.  You can't really capture the sweet smile of Brenda, age 8, who held my hand so tight and stayed so close all day…in a number.  A number means nothing when you hear the little ones giggling wildly as our team launches a tickle war or see a baby brought from town being treated for malaria.
What really happened can't be expressed in numbers, unless it is infinity.
Dorothy Bowman
(Mama Dot)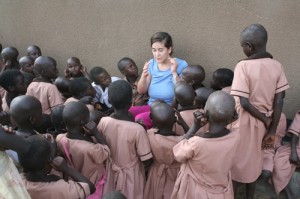 After three days of traveling and much anticipation, I was reunited with my friends in Kadacar yesterday. While much of my time in Kadacar is spent joyfully playing, singing, and dancing with the school children, I was also able to reunite with one of the schoolteachers I befriended last year, Grace.
Grace, like all of the teachers at Kadacar, is gifted in her profession; the students trust, listen to, and respect her. This year Grace was able to show me her new home that the school provided her. Just last year Grace called a spare room in the school building, which was shared with the other teachers, home.  As many others that have been on previous trips, I continue to be amazed at how much improvement the school has seen in just one year, and I am thankful to be a part of this flourishing community.
During my visit to Grace's home, I was also able to give her a Bible; I packed an extra this year after encountering so many people hungry for God's Word, yet unable to purchase a Bible, on my previous trip. It was a beautiful time. She was so grateful she dropped to her knees, called her husband so he could also thank me, and, in return, gave me a bag of delicious roasted nuts. We then spent the next twenty minutes sitting in her home, worshipping God in song, and praying.
I am so thankful for that precious time. In fact, I am thankful for every moment I have here in Uganda. It is a gift to be able to return this year, after being a part of last year's team, and see true, beneficial change happening. Padre, Madre, Laney, and Claire, I love you all and wish you were here to experience this with me.
Cate Alspaugh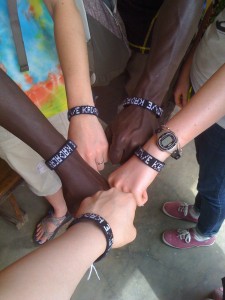 I am overwhelmed. I am surrounded in a culture that I am so familiar with, with people that I have been removed from for three years… and yet my heart is heavy and my shoulders burdened. I have been consistently uncomfortable in my university until the day I graduated, but I had been so far from this place, mentally and physically, that I had forgotten what was weighing in the back of my mind, often making me (unfortunately) cynical and distant. The Lord has brought his doors open to me loudly, and burst into forgotten memories and pain in order to open the welcoming nature of these beautiful people, and the devastation they face daily. My comfortable mountain patio seems like a distant dream, and the people there even more in need of an awakening; I had only forgotten how much I was called to share, and how much I had ignored of my calling in my three years in Boone. Being here, I am thankful for the friends that I have, those that the Lord brought into my life, who I now realize connect with me in so many similar ways without even realizing the deepness of our relationships: the need to help others and allow genuine humility to bring a "realness" into the frontline of our lives. Community is different from the "need for attention" and, here, people that survive on true community thrive.
Pastor Michael's church preached on 'surrender' our first full day in country. I have decided to adopt this as my mantra, for without this I do not think I can function. My self-loathing, cynicism, grudges and judgment that have held me too close to sin are consistently beating me in the head, but the smiling faces of Amos, Sam, Hannington, and the family of Pastor Michael are slowly allowing me to brighten my horizons. I am allowing these overwhelming feelings to happen and children chase me through a rugged field. I am allowing moments where negativity comes to pass as I sing syllables in hopes to match an unknown song in an unknown language. The people here are beautiful. The children are hopelessly in need of love. But they do not realize that they are the ones changing me. The Lord has some radical things set aside for me this month. I can feel it. I am only the slightest bit frightened, but encouraged by my old friends and the love I know is to come. There is a definite reason that I am called here, and called here with some of the deepest challenges I have faced.
Dad – If you're reading this at all, Happy Father's Day.
Mom, Dirk, Bianca, Evan, Daniel, Quindell, Margie, and Jane – Everyone wishes you were here, each and every one of you. I am thankful to have my uncles here, and know that your presence (Mama Paige and Papa Dirk especially) have been noted and called out for over and over. I love you all so much.
Will – I miss you so very much, you would thrive here, and one day I know you will travel with me. Hannington and Sam have loved my photos and said that you look nice and that I "bring that one with next time." Naturally. No one has proposed to me yet, and I am only the slightest sunburnt. You would be proud at my efforts to avoid negativity, and it's because of what you said that I have been able to truly work hard. I love you.
Alyssa – I seriously could not stop thinking about you today. Sister, you would have died holding these kids and playing some of the singing and dancing games. I was channeling your energy when I could and I seriously felt as if you were with me more than once and turned to look for you near me. One day! You rock something awesome, I hope you're taking care of yourself J
"Stay strong. Know that God is in control and rewards the faithful" – George Merritt
Emma Holland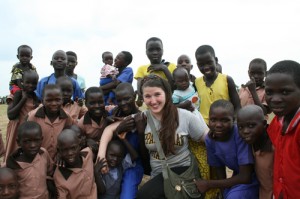 I think it's fair to say that we've never had a day quite like this one.  This morning started ordinary enough, with breakfast and a brief devotion with the team; everything else was nothing short of extraordinary. We took the team bus to the school at Koreng (co-rang). About 100 of the 600+ children sang and danced to welcome us.  There is so much need there. We handed out 600 blankets to children most of whom have never had a blanket.  They were so excited and grateful … I even saw one child kiss their blanket.  We didn't have enough blankets to hand out to every child.  Many of the children's uniforms had holes in them and were missing buttons.  One child asked one of our team members if we brought them shoes (because many need new shoes) and we had to say no, not this time.  There is a doctor, two nurses and several assistants on our team who gave basic medical exams to the first 150 of the 600+ children at the school.  I (Jonathan) then brought out two soccer balls from the bus, and a loud cheer went up from the children … I held the soccer ball above my head and they cheered loudly again … It TOTALLY made my day!   After Koreng, we went to the school at Kadacar (cat-ah-char).  We taught classes, and played with the kids all day long … We sang, danced, played just about every game you could think of.  The children have so little but they are very cheerful and friendly.  Every "muzungu" (foreigner) on the team had dozens of children following them around.  There's no way that we can possibly tell everything that happened today.  One of my (Jonathan's) favorite things was gathering a big crowd of children around me, and then having them chase me all over the school grounds, until I was too tired to run anymore.  When they "caught" me, they pressed in on every side trying to shake my hand.  Yes, today was in fact one of the best and most rewarding days of our lives J
Jonathan and Carolyn Curry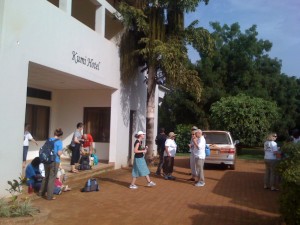 Happy Father's Day to all Fathers that read this blog! Today was day number one (1), and what would be a better start than worshiping with our African Brothers and Sisters at Agape Baptist Church in Kampala, Uganda. The service was filled with praise and worship, the rhythm of African music and the wonderful voices. I counted five or so power outages, which is not unusual here and perfectly normal, during that time the music generated by electricity like electric keyboards and guitars disappeared and only the wonderful voice of the choir and the people that attend the service remained. What an experience! After the service we piled into our bus and headed on to our journey to Koreng. I love traveling with people that had never been to Uganda and I can still remember my impressions I had when I first saw the chaos on the roads, the KFC Uganda style "chicken on a stick", the trash littering the road and the potholes, some as large as VW Bugs!  The "chicken on the stick" was my favorite, I wish you could see the eyes, when young people rush the bus, stick wood sticks with cooked chicken and grilled bananas though the window, trying to make a sale. Our trusted Ugandan guides handled the bartering on our behalf and after a taste lunch we continued on our journey. Pastor Michael, his wife and daughter traveled with us and we stopped at a Hotel for dinner in Mbale. Unfortunately, our bus broke down just outside the city. Interestingly enough, Pastor Michael has a brother that lives in the city and he was able to procure another bus for us and after about a 2 hour delay we continued for our last hour to the hotel. It is a very comfortable hotel and everyone was enjoying a restful night.
Thorsten Hamp