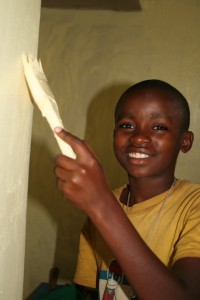 These past few days our team has had the pleasure of painting the sitting rooms and the cubbies of the houses that the kids live in, here at Agape. The walls were starting to show signs of being lived in. Finger prints, children's scribbles, signatures, as well as the buildup of grime from daily life were all becoming evident. The walls needed painting and I have been told that the house mamas appreciate what we have done. Their smiles say it all. And their words of thanks and encouragement only back up what that first smile when they see the room. The first sitting room we painted was house 7's sitting room. Mama Topi the house mama there smiled and said thank you while bestowing hugs to each one of us when she saw her newly painted room for the first time. Her appreciation was so heartwarming and it felt wonderful to do something for her and her house. I have been blessed through having my lunches at house 7 with her and getting to know some of the kids from the house, such as my new friend Grace.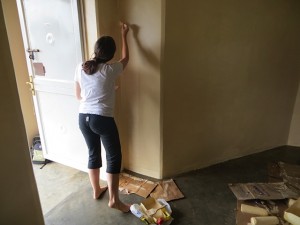 Although almost everyone has taken part in painting I have gotten the opportunity to scrub or scrape up all the paint drips– and there are plenty! It has been fun though; it gives me the freedom to talk to different people on our team or who are helping out with painting as I work my way around the room. I have gotten to know some of the team members better and some of the people who live here who have also helped us out with painting. While painting we have talked, listened to praise music, pop music, and had some funny conversations that had me and others laughing. When we take breaks it's great to stop and talk with the kids, hug them, play with them, and get to know them. It has been a fantastic time. I loved hanging out with the kids, and I still prefer it, but seeing the appreciation on their faces and knowing that we have helped them in a lasting and tangible way has been fantastic. The attitudes of the people I have met here in Uganda have been such blessings to behold. I am glad to be a part of it.
Cali Willit
While being here at Agape I have had the pleasure of meeting a bunch of fun and awesome kids. All of them are unique and special in their own way. For lunch each day, we have been assigned to houses and I am in House 8 with Mama Josephine. It was a match made in heaven. I love every single child in that house. While I love them all, there is always that one you bond really close with. I have bonded with a small, six year old girl named Rita.
Rita has gone through a lot for a six year old. She has had a surgery on her heart, has moved into a home with a group of people that are not her relatives, and lives in a country where they take baths out of buckets and they have to sleep with mosquito nets to avoid malaria. However, whenever I see Rita she is always smiling. Always playing and laughing with the children in the community and her best friend Gloria (Nickname: Giggling Gloria…she laughs a lot too). Today it broke my heart when I saw Rita sad.
I think she was having a bad day. Whenever I have a bad day, it's normally most of the day. And sometimes it takes some retail therapy, Goodberry's Frozen Custard, and my friends to make it better. When I asked Rita what was wrong she didn't say much. I saw she had cut her knee so I went to grab her a band-aid and when I came back she was crying. One of the girls in their house said she hit her head on the wall.  Sometimes the smallest thing is all it takes to make the tears fall. She was crying and kept sniffling, trying to wipe away her tears as fast as she could.  Haha, it almost made me cry. But for Rita to stop crying…all it took was me holding her and rocking her for a few minutes, spinning her around, and asking her where her pretty smile was. Then in five minutes she was off playing with her friends again laughing.
I don't know if it is her resilience or just the fact she is six and anything can make things better. All I know is that I learned something from her today and that is to not let things bother me as long as I normally do. Rita is truly one of the happiest girls I know. Her happiness is contagious and spreads around the village. I hope when I get home I can be more like her, smiling and laughing all the time. Each of these children is truly a blessing, bringing different gifts to the table. I don't know what we will do when we have to leave them. Pray for us next week on Tuesday when we leave Agape!
Devon Karst
Yesterday, a small group of us broke off leaving the team behind at Agape Children's Village as they were working to  paint the living and sleep spaces at the orphanage.  Juliana and Anna West, Peter Sweere and I traveled to Kaihura with Hannigton our trusted friend and driver.  We wanted to come and visit with our friends here in Jane's home village and the place where Embrace Uganda really began. The trip was uneventful and we even got to see a few monkeys along the way.  The countryside in Western Uganda is stunningly beautiful.  It is best described as similar to the North Carolina mountains, except with all tropical vegetation.  Lush in all shades of green.  Along the way, village after village.  And always, there are people walking along the road. . . school children in colorful uniforms, proud women in their beautiful dresses carrying goods on their heads., ,men pushing bicycles loaded with anything imaginable.
We received a warm welcome at Faith Kunihira's house and started out with a tour of the village.  The new clinic under construction is showing signs of progress. The concrete for the floors has been poured in most places and the walls will be ready to be painted by next week.  A few feet over is Home Again Orphanage.  A bathhouse with indoor plumbing has been added, and there is a new kitchen and dining facility.  Currently 69 children are cared for at this home, infants through middle schoolers.  Most of the high school students are at boarding school.  The youngest infant, Josiah, a six week old former premature infant now weighs in at six pounds, but receives special care at Faith's house, away from the many exposures at the orphanage. At dinner, we had the chance to catch up with our good friends Arthur and Faith Asaba.
This  morning, we traveled to Fort Portal, the next bigger town 40 kilometers west.  22 students, mostly from Home Again, a couple from Agape, stay at boarding schools here.  We took bread and peanut butter for everyone. It was a joyous reunion. Joyce, Juliet, Rose, Robert, Edgar, Stephen . . . and many others, making us proud.
After lunch, we returned to Kaihura, hoping to ride boda bodas to visit Jane's grandfather and also to see the agricultural teaching program at Kyongera.  It was a big cloud, and there was some thunder.  But Faith and the boda boda drivers agreed that rain was unlikely . . . well, they were wrong.  Halfway there, the skies opened up and we found ourselves seeking shelter at a complete stranger's home.  They eagerly opened their home and invited us in.  The van came to pick us up and we postponed the visit to Jane's grandfather's house.  However we saw the agricultural farm that is part of the vocational training program.  Very impressive plots of corn, banana, pineapple etc.  on a total of 15 acres of land bear witness to the incredible work that is done to teach valuable life skills to these young men.  They also have a carpentry shop where they learn skills.
Of course the road had been turned into sliding mud, and our driver slowly skidded us back to safety.  The conversation went something like this.  Peter asked if the van was also used to transport the grain and produce.  Faith said:" Yes, and sometimes patients that need to go to Fort Portal for treatment, and sometimes to transport a body, and sometimes to take children to school, and to transport construction material. . . yes, we get good use out of this van. . . "  -  Africa.
Dinner and tea, holding Josiah for a while, listening to Anna playing cards with her African friends, catching with my friend Patrick Kahuma, no electricity until at least tomorrow. . .  It has been another good day.  Headed back to Agape tomorrow.
Dirk Hamp
On Sunday afternoon, we assembled children and house mamas to share what we brought with us.  We carried enough quilts for every child at Agape, just like the ones at Rena Secondary School, so that they would have a personal gift that they could call their own.  These quilts had been made by women at Wake Forest Baptist Church and at Clemmons First Baptist Church.  Each was personally dedicated and signed on the back along with a scripture verse.  The crowd cheered for every child when their names were called and they stepped forward to pick up their quilt.  They proudly carried them to their rooms.  We also provided First Aid kits to the village as well as the on site school.  There were school supplies and soccer balls for all to share.
Later in the afternoon, the house mamas were presented with personal items, but were also given a laptop computer to be shared between the four houses.  They will receive training by the resident missionary, Bill James who will also help the older children prepare for secondary school by teaching basic computer skills.  The celebration was something to behold! A second computer will be presented to the principal at the school.
During the week, the bedrooms and living quarters in the orphanage will be renovated and painted.  Our team will purchase mattresses and sheets for each child.  At the end of the week, we hope that every child will sleep in fresh bedding and to be able to remember the giving spirit of the people who so lovingly crafted their quilts for them.
Dirk Hamp
Agape!!! I love it here.  I thought it was hard to say good-bye to the kids at Koreng. . . I am sure it will be even harder to say good bye here.  One thing that I feel many of the Ugandans have is the Gift of Hospitality.  When we pulled up to Agape, it was one of the most incredible moments I have ever experienced.  We had to drive up a long hill and as we were just starting at the bottom, the children come running down waving their arms until they reached the bus.  Then they walked all the way back up the hill with the bus and began to hug us the second we got off, some of us being total strangers.
The Mamas here treat me like I am their own.  Today, my house mother cooked us a feast that was equivalent to a Ugandan Thanksgiving.  And it was incredible.  Ugandans are just truly amazing.  This country is so unique and beautiful.  Don't get me wrong…. I wake up here missing things.  The ability to drive a car, a normal shower, and today I even missed American music.  But the second I step outside my house here at Agape, I see the kids and begin to hear their laughter and it makes every material thing that I miss at home forgotten.  I hope I can take all of these lessons of hospitality back home and use them to bless others.
Devon Karst
I haven't blogged since the first night but since then much has happened. In Koreng there was a soccer tournament between the three local schools.  After a full day under the heat the local team wished to see me play.  I was put on the Koreng team not because of any skill purposes but because I just so happened to wear the correct color shirt.  The atmosphere of the game was completely different than in the US.
Instead of a flat pitch there were anthills and craters, instead of passing and teamwork it was kick the ball really hard and hope you get it, and instead of a few soccer moms watching and cheering there was a crowd of about 700 people. I tried to tell them to "take a touch" or "pass through" but my only hope was to give them  a nice pass and hope they'd put it in the goal.  At the end of the game the score was 2-2 and we were heading into overtime.  After failing to get a penalty and getting a yellow card by the referee (Hannington) I felt that scoring a goal myself was impossible. Close to the end of the game my luck finally changed.  A cross game swinging perfectly to my lane and honestly all I had to do was tap the ball into the goal.  Immediately after, the crowd rushed the field.  Supporters of all teams dog-piled me in utter excitement. It must have been 100 children around me yelling EVANSS and CHICHARITO!! I'm not telling this story to gloat but instead to show that everyone has the ability to be a hero for someone.  We all have special gifts and can use those gifts not to better ourselves but to better the lives of people in need. I honestly felt like a made an impact on people's lives that day and hope to do much more of same in the future.
Evan Holland
This morning, I was walking to watch the soccer game that was being administrated by Compassion International with fifteen of my newest friends around me when I saw something on my leg.  Four names were written on my calf in blue pen: Kizza, Winnie, Sarah, and Catey, the name that they call me. At first glance, I was shocked because I literally had no recollection of anyone writing on my calf. But then I was excited.
Because these were the names of the children that I have only known for 24 hours, but I love like I have known them for my whole life. These, along with Gavin, Prissy, Peace, Charity, Moses, Joseph, Yvette, Nathasha, and Gloria, are the names of the kids that fall asleep in my arms, refuse to let go of my hands, tell me they love me, sneak tomatoes while I'm cooking, and braid my hair whenever they can reach it.  I'm refusing to let myself think of Friday, when I have to be separated from these beautiful names and faces. I'm falling in love with Uganda and am so thankful for God's presence in the hearts of these children.
Much love to my amazing and supportive parents and beautiful sisters and friends! I miss you all!
Cate Alspaugh
The team is currently experience a power outage at Agape Children's Village, which is not uncommon and may take a while to be restored

. Everyone is well and in good spirits. We  expect new blogs as soon as power and internet access is restored.
Thorsten Hamp
We are finally home! I know this because, at the bottom of the hill to Agape Children's home, all of my many brothers and sisters have run down the long, red dirt road to great us. They may not be my real brothers and sisters but they are my brothers and sisters in Christ and I love them all the same.  I am so happy to be home! It is a wonderful feeling to know you can come home and not live out of a suitcase, even though it is only for one week. My brothers and sisters escorted us up to the church jumping and yelling, "Our Bus! Our Bus! Our Visitors!" in their beautiful accents.  We came out of the bus and were immediately embraced with new and old friends (all new for most of the visitors). I was so happy to see my second mommy "Mommy Christine" again I love her so much. We went into the church and they had a large welcome party for us with singing and dancing.  It felt like I had gone to heaven because I think that this is how God would welcome me into his home.  The Mzungu Pastor Bill took us for a tour and told us that unfortunately there was a change from the past years and that we are not allowed to stay in the homes we have before.  I am upset about it but I will spend every waking hour that I can with my family.  Then Pastor Bill invited us into his house and fed us a delicious meal of chicken and noodle soup, bread and butter, and pineapple.  For the first day here it has been wonderful and I couldn't ask for more.  For now with love, from here to the moon and back.
Anna West
The team has been great, all eagerly helping to accomplish all that we want to do while we are here. Not a single complaint along the way, and everyone learning to accept that African time does not always follow Western convention; hot water is a nice thing when available, but one can take a shower without if necessary; food tastes just as good without utensils; it's ok to wear a T-shirt for a second day; there are infinite ways of stacking suitcases in the back of the bus; and sitting on a strange person's front porch and holding their babies is a great detraction while watching a blown out tire getting changed.
Yesterday afternoon we stopped at Rena College in Mayuga.  This is a boarding school with over 800 students.  Embrace Uganda sponsors 30 students from Agape Children's Village for their secondary education (high school) at Rena.  It happened to be "Parents' Day".  There was music and celebration as well as sporting events.  We watched our kids perform in song and dance. While the kids went of to play soccer and volleyball, which included our team members, some of us met with their teachers for progress reports.  No different from back home, some were excelling and others are struggling.  The teachers were eager to point out their strengths and the areas that needed improvement.  We gathered all of our Agape kids and were able to reinforce some of the teachers' concerns and to encourage them.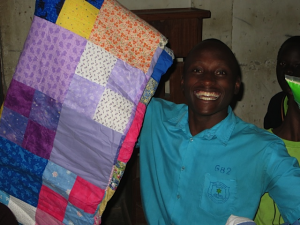 We brought quilts and shared them with each one of the students.  At first they were not sure, but their smiles got brighter and brighter when they unfolded the quilts and began to read some of the dedications that had been inscribed on the backs of the quilts.  It was a sweet time of getting to know, reacquainting and renewing relationship with these kids. Then, we were off to a hotel for the night.
This morning, I had the chance to meet Hope.  She is 20 years old and works in the dining room of the hotel.  She works from sun up until 10 PM, seven days a week without scheduled time off.  She sleeps in a simple shelter a few minutes away from the hotel.  Her family is in Western Uganda. When asked about her job, she said that is a good job.  She is glad to have a job because many young people in Uganda don't.  She hopes to go to business school.  She earns 100,000 Ugandan Shillings per month.  When doing the math, she works close to 400 hours a month, making 10 cents (US) per hour. Not a single word of complaint.  She is glad to have an opportunity to work. She is better off than most young people her age.
Next stop, Jinja and an excursion to the source of the Nile River.  Beautiful country, very interesting wildlife and just in awe to be able to see a place like this. Michael and I had a chance to briefly meet Katie Davis, author of "Kisses from Katie". She was busy homeschooling her children and had other commitments later in the day, but how cool was that! Maybe, next year, we can plan and visit with her.  Lunch at the "Source Café" in Jinja, a meeting place for relief workers and missionaries in downtown Jinja.  Some shopping and off to Agape. . .
Dirk Hamp
Over the last two days, we have made our way from Koreng to finally arrive at Agape Children's Village this afternoon. We passed through lush African countryside, never getting tired of watching all the activity by the side of the road.  Goats tied to bushes, charcoal for sale, papyrus swamps, broken down trucks, trading centers with men sitting and women working, children as young as infants playing in the red soil. . .  Again and again, cheers and shouts of "Muzungu, Muzungu."