Our day began with church at Agape Chapel. It was three hours long.  That's right. Three hours. It was also beautiful, beautiful praise where you can hear the strong voices of children, join in long and passionate prayers, enjoy a welcoming reception, and listen to a sermon with more than the usual three points. A lot of other things were going on too: a young child pushing a chair across the concrete floor or carrying it over her head, prayers and sermons punctuated by a random cymbal clash or sudden chord played on the electronic keyboard, birds flying around in the sanctuary, a projection of a koala bear on the wall (the wallpaper of the computer desktop used for percussion), people filtering in and a few out, and some side conversations going on.  Slightly chaotic and yet quite wonderful.
It's my second visit to Agape Children's Village. Mama Grace and Mama Josephine care for perhaps 25-30 preschool and primary school age children here, swelled during holidays by the secondary school children who are away at boarding schools. The school fees for all of these children are paid for by Embrace Uganda.  Huge partners in maintaining these beautiful grounds and facilities are Calvary Chapel Church of Arrowhead Lake, California and the local Agape Baptist Church, where Michael Okwakol is Senior Pastor. Its hilltop location on the outskirts of Kampala, Bukerere actually, is quite beautiful, an oasis, really, and a godsend for the children here.
We spent a leisurely and unprogrammed afternoon playing with the children.  I was able to visit with Sam, a college graduate and beneficiary of EU sponsorships, who is marrying Miina on Sunday.  What a joy to spend time with a godly young man who is seeking the best for his  marriage and family.
Later, Anna and I found King on the steps of House 6 playing his guitar, so I tuned his guitar for him and we sang along to several praise songs.  King is also a graduate of secondary school, sponsored by EU. He senses the call of God on his life and would like to attend university for theological and musical training.  He led us in worship that evening, and after that we watched on a wall outdoors a video production of The Storybook Bible, an excellent resource for kids and also good for adults, all of whom were in rapt attention tonight.  Even Hannington was mesmerized.
I thought I was over being impacted by the Ugandan people, but I am not. The music in church was imperfect in execution and yet so beautiful in its passion and sincerity that tears welled in my eyes. The children that crawl up in your laps are loving and undemanding, and the older kids and Mamas here practice servanthood. I don't over spiritualize it or think of them as innocents, as I know the sin and brokenness that racks this people, and yet the good is overwhelming and spiritual wealth more on display given the material poverty.  Faith is tangible.  It overcomes my indifferent and calloused heart, saves me from a kind of cerebral faith that has no heart.
If you're reading this, you can help. Sponsors are needed.   If you lack, join with others to sponsor one child. It will make a tremendous difference in their lives. It will give them hope.
Today is June 8th. It is the middle of the year. Today in church service, in the middle of the worship a lady came up to us and said that it is the middle of the year and we should be smiling because we are alive and well and able to go to church. She also said that if you are not smiling then you are scaring us, which made me laugh. Then she read Psalm 100, which says "Make a joyful noise unto the Lord all ye lands, serve The Lord with gladness, come before his presence with singing. Know ye that The Lord he is God: it is he that hath made us, and not we ourselves: we are his people, and the sheep of his pasture. Enter into his gates with thanksgiving and into his courts with praise: be thankful unto him, and bless his name. For The Lord is good; his mercy is everlasting; and His truth endures to all generations."
I haven't heard that psalm in a very long time and so I stopped and really thought about my life. The Saturday before the team was going to go to Uganda, I had no idea that I was going to be joining them. I thought that door was closed and that I didn't even have the option of saying yes or no. To be honest I was a little upset that I had not been given that choice. My parents were going to help the team finish up packing and I voiced my opinion to Eric, the guy I was helping pack with. It turns out that my mother overheard my conversation and talked to Dorothy about the option that day. I didn't know that they had had a conversation until after the packing was done and we were driving home. My Mom turned to the back seat where I was sitting and asked if I really did want to go with them to Uganda. It didn't even take me a second to reply: Of course I did! They were not sure that I was going to be able to come, but they said that they would call the airline and some other people. God really opened the doors for me and my family because not only did I get all the flights here and back, but I also got to sit next to Jamie Riley, the girl we were traveling with.
I'm really grateful  that God has opened the doors for me to be able to be here and see all my wonderful Ugandan friends again and help this community. We have been doing wonderful things to make others smile, like providing basic blankets and uniforms and mattresses to people who need them but don't have them. I really think by doing these things we are making God smile. So many people go throughout their lives frowning and "scaring other people." I know because I have been one of them. What does that show others about our Christian lives? If we go around frowning like everyone else then how are we different? How do we stand out from the others? How do we show God in our day to day lives? I think that is the least we can do for God. Show the joy of salvation that God has put in your lives and smile. Maybe you will make someone's day and maybe you will change someone's life. Take time for someone today and be different. You should be smiling! That's all for now.
Anna West
The EU team did quite a bit of traveling today. After leaving Kroeng, we accompanied a part of the team to the border with Kenya, where they crossed over and continued work with an orphanage there. We bid farewell to Rob, Emily, Ben, Jamie Lynn, and Eric, a huge part of the team that will be sorely missed!
Dorothy, Steve, Juliana, Anna, Haley, Jamie, Kaitlyn and Amos, driven by excellent driver, guide and friend Hannington, went on to Jinja, where we had a late lunch and a bit of craft shopping, and then on to Kampala, where we had a late dinner with Michael and Cossie Okwakol and their friends Liz and Emmanuel.
While we were told that the children at Agape Children's Village would be asleep when we arrived, not so! They ran down the road to meet us, even at the late hour, and there were many hugs and warm embraces, as well as quite a bit of singing, drumming, and dancing. It was good to see old friends! We look forward to church with them tomorrow and in spending an entire week here in this beautiful place.
Steve West
There's a sign in the bathroom at the Kumi Hotel that you notice on your way out.  It says "Remember to flash."  Something's not right with that.  But it's OK.
Down the road in Kumi where Pastor Michael is preparing a guest house for visiting mission teams, there is also a bar.  It's called "Hang Loose Station. . . The Struggle Continues.  I like that.  But I don't know how you can hang loose and struggle at the same time.
Whenever we confront an oddity or inconvenience of African culture, we say "TIA"  This is Africa.  It settles everything.  It's very freeing to simply accept where you are at the moment and, rather than just hanging loose, trusting God and realizing that things don't have to happen on time (they rarely do here), work properly (the availability of hot water and water pressure varies greatly from room to room and moment to moment), or go as planned ("lunch" today at Koreng Primary School was at 4:00 and dinner back at the hotel around 9:00).  TIA.
We finished delivering mattresses today, had the privilege of entering the homes of the images of God and praying for them.  I don't go around calling people the images of God too often if at all, but I love the truth of that phrase: these Ugandan men and women are made in God's image, and though they suffer want and infirmity in this life, the ones who know Christ have as great an inheritance in Heaven waiting for them as do I.  And even here, despite their material poverty, their spiritual wealth is great.  They are richer than me.
Once today, I gave up the air conditioned comfort of the van and rode in the back of the truck spread out over a mattress with Anna and others, cattle running ahead of us, through the maize and cassava fields, passing small communities of thatched huts and waving Ugandans, all wondering what the old muzungu was doing on the back of a truck with seven or so Ugandans.  It was wonderful.  The dust and sun and air.  The jarring bumps.  Laughter.
After lunch at Koreng Primary School, we had a closing ceremony with the community about 5:00.  There were introductions, remarks by school principals, speeches by governmental officials, performances by school choirs (amazing), and the giving of gifts.  Not only did we give them gifts, they had gifts for us as well.  When they brought out a hand crafted walking stick, I leaned over and said to Juliana, "well, that must be for me."  It was.  I have joined the ranks of the aged.
Every speaker indicated that their "remarks must be short, given the time."  They were not.  The crowd encircling us grew larger and larger and pressed more tightly in.  There was a lot of background noise, kids leaning in, touching you, a hundred other conversations going on.  Towards the end, it appeared the whole thing was coming unraveled, as it was almost completely dark, people wandering in and out of the center area, others dispersing.  And yet it went on until 8:00.  TIA.
But it was OK.  It was a privilege.  We need a little TIA in America, a little less concern about "kronos" (chronological time) and more about "kairos" (quality time), less concern about getting somewhere and more on enjoying the trip with those we love.
This is Africa.
Steve West
The past few days we have had the honor and privilege of being the Lord's hands and feet by taking mattresses into villages of Koreng. This has been one of my favorite experiences, as each home is unique in its own story. Christ has been teaching me the power of humbleness and humility as we enter into these places, and he has been teaching me of his sovereignty as he already knows each name, story, and prayer concern before we do — after all, he did create these men and women in his image.
My heart was broken quite a few times, but one particular story I want to share with you is about a lady who was not on our mattress list. For one particular stop we had more than one person to receive a mattress so we broke into teams. After finishing with the house our team was with we were back at the vehicle waiting for the others; that is when we noticed her. This lady was doing her best to crawl to us in hopes that we may bring her a mattress, and the distance she traveled was fairly great. As I had seen her on all fours, my heart begin to crumble — this lady had faith, she had hope. We went and met her where she was; and when we told her that she was going to have a mattress she completely fell down.
In her story I am reminded of the Lord's sovereignty and supremacy, we did not know  that we would be meeting this dear lady on the side of the road but he did.  We did not know all of the pain and joy that her life has seen, but  he does. And he knew that June 5th this child of his would lay on a mattress that evening to go to sleep. I praise God that he is faithful and hears his children when we cry out to him; I praise him for being the supplier of our needs. Thank you for these mattresses for these precious children of yours and may they be used to bring you glory.
Haley Harris
Today the Lord not only gave new mattresses to the elderly in Uganda but also gave new life to two sweet people today! Praise The Lord!! I often wish that I was more bold in my faith. Today I was able to experience being bold for my savior. When meeting each woman or man that was receiving a mattress, we would ask them if they had received Jesus Christ into their heart. Two individuals told us that they hadn't before but wanted to receive Christ. We prayed a prayer for them to accept Jesus as their Lord and Savior! After one lady accepted Christ she stood to her feet waving her hands in the air shouting "Amen! Amen!" She was so happy to have not only a new mattress but also to be a new member of the family of God.
While seeing people come to christ was definitely a blessing today, I also enjoyed going to all the other houses as well. At every house that we delivered a mattress to, we greeted them, brought the mattress into their home, put sheets on the bed, and prayed for that individual. It was so intimate to be able to go into their home, lay our hands on them and pray for them. I learned from the Ugandans the gift of prayer. The first mattress we delivered, the man told us that he did not have anything to give us, but he could pray for us. What a powerful prayer and wonderful gift that was. As we visited the elderly today and gave them mattresses, I was humbled to know that the Lord provided a bed for them and he can also provide and care for all other needs as well if we just ask. As I think about the men and women in their sixties, seventies, eighties, and nineties that have never slept on a mattress until tonight, I pray that they will rest well in the love and truth of Christ.
Lauren Bass
Riding into Koreng today, the wide dirt road gradually narrowed and became little more than a cartway, as we passed fields of maize, cassava, ground nuts, and sweet potatoes, punctuated now and then by full mango trees, set against a blue sky that stretches into the horizon. Everything is green and full of life here at the end of the rainy season. Cattle cross the road. Children wave at us from fields. Uganda is beautiful, as is its people. And yet everywhere is evidence of the fallenness of a good creation.
Today, we delivered mattresses with bedding to 29 homes, usually in teams of five or six, accompanied by a Ugandan translator. Our minivan would travel down nothing more than paths with knee high grass, park, and one of us would lift the twin size mattress on our head and carry it to the home of the elderly person identified by the elders of the community as one in need. Carrying it in was tiring when the home was some distance off the road, a light burden really, yet I considered the burdens faced by the recipient and how Jesus said "my burden is easy, my yoke is light," and I was thankful for any reminder of that in my life that is so easy compared to the lives here.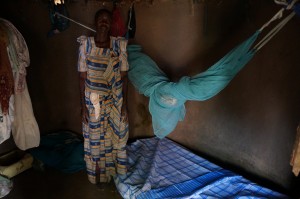 The mostly elderly women we met had biblical names, like Tabitha, or Esther. We greeted them, and then entered their round thatch home with neatly swept dirt floor, usually no more than 12-14 feet in diameter. We removed the old beddng, put down plastic and then the mattress, and made the bed. We brought our Tabitha in, sat her on the bed, and then one of us prayed for her. What a privilege to visit with these people and pray for them And sometimes they prayed for us. And then, we left.
They have nothing but the clothes on their back, and barely those, ragged as they are. One woman we met said she was hungry, that she had no one left to care for her. Another woman with three children — the only young woman among the recipients — told us her husband was murdered and, after his death, her brother-in-law took her land, leaving her only the small home in which she lived. I kept thinking about her. How will she live now, not having any land on which to grow food? How will her children live?
One man Pastor Michael spoke of lost his legs in a bicycle accident. Even if he had a wheelchair he could not maneuver the rough paths around his home. How will he and his family live?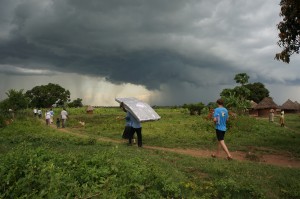 In 30 minutes the hailstorm yesterday destroyed crops that many families depended on for food in the coming dry season. All that hard labor rendered unfruitful. The storm also blew down the home of one of the teachers at Kadachar Primary School. What will he do?
Under such hardship you might think that you would only hear weeping, but the people were all smiles, full of laughter, grateful for what we provided. They live day by day, and most of the ones we met were believers. Yet if there was doubt, they also heard the Gospel from us.
I know that a mattress is a small thing and will do little to change life for them. And yet it will ease their burden, help them rest better, mean they have less pain. And when they lie down on it, they will know that someone cared for them. Enough to come to them. To enter their home. To pray for them.
As Hannington, our very wise and good driver said today, "if we lose our heart of care, what will we be?" What indeed. There is more we can do and do wisely, but a mattress is a good place to start, as we wait for God to undo the curse of sin, for hunger, homelessness, and hailstorms to end, for all things to be set right.
La la Saloma, Tabitha. Sweet Dreams.
Steve West
I have been in Uganda less than a week and I have learned so much about myself, my country, and my God more this week than my entire life.  I am blown away at what the Lord has already done in my heart, and I am grateful that He chose me to be a part of His transformation in Uganda.  So far I have rode in a plane over twenty-four hours, got to attend one of the most spirit filled church services of my life, rode hours in a bus along bumpy dirt roads, snuck into a wedding reception, had many laughs with my awesome team, assisted in teaching bible stories to children, fed six hundred children lunch, assisted at the medical clinic by passing out toys after receiving treatment, watched a soccer game in the Embrace Uganda Cup, took several cold showers, ate a lot of delicious food, had many tickle fights, passed out blankets and school uniforms to children, and passed out mattresses to the elderly.
My heart is so full of joy to see the biggest and most beautiful smiles on each face.  Their love for The Lord and each other is so refreshing.  It is evident that their generous and humble spirit comes from the Lord.  The people of Uganda welcome us with bright smiles, big waves, and beautiful voices everywhere we go!  It was easy for me to come here thinking that I was going to help and teach these people and learn from them a little as well.   However, they have taught me so much more than I could ever teach them.  I have learned that life is as big as your God is.  The more stuff that we fill our mind and life with, the less room we make for the Lord.  The people in Uganda are poor in material things, but rich in the gospel and the spirit of God which is the greatest wealth one can possess.   The gifts of prayer, food, smiles, and song have meant more to me than anything else they could possibly give because it is all they can give and they do so with a very generous heart.
Speaking of the gift of song, the children sang a welcoming song to us today that stuck with me all day.  The lyrics sang "May The Lord be with you until we meet once again".  What a beautiful truth I was reminded of.  As much fun as I am having laughing, playing, singing, dancing, smiling, and loving these people we will see each other again and how much more wonderful that will be!
Lauren Bass
During my time in Uganda the past several days, I have had many experiences. From the city of Kampala to the rural areas near Kumi and Koreng, I have seen a wide variety of living situations. Yet something that I find in common amongst them is how they show hospitality to those both in their community and those who are strangers to them. I see a strong sense of outward focused caring. This is a strong contrast to how we do things in the United States, even in the South where we are known for our "Southern Hospitality". Hospitality is an opportunity to live out the Gospel, yet we so often view our homes as our sanctuary and not an opportunity to show love to others.
Some things that happened since my journey begun: Our first couple of planes ran late. This especially made things tough when we were trying to get to our connecting flight when we were in Brussels, Belgium. Through all of this God was sovereign in making sure we arrived as we needed to. The first several days when we got to Kumi, we went to neighboring primary schools and did several ministries. I helped with the medical clinic on Monday. Since I am not from a medical background, I mainly helped where needed and distributed toys after each medical exam/medicine distribution. Tuesday, I was on a team that played various games with the kids, both American and Ugandan games. I also spent time with the children learning various words in their native tongue. Wednesday, we distributed blankets to one school and new uniforms. These items were possible because of donations to Embracing Uganda. We also started mattress distribution with the Sweet Dreams ministry. In this ministry, we go to various homesteads and provide mattresses to the oldest and infirm members in the community. We will continue doing so tomorrow. On Saturday, I leave for Kenya. Please pray for my travels. Also, pray for my remaining time in Uganda, that it will be fruitful and the Lord will provide opportunities for His Love to be shared.
Erik Loomis