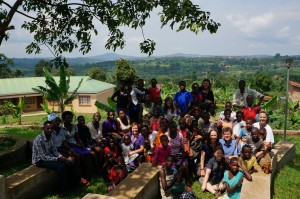 We've dropped the Wests off at the airport and  Mama Dot and Cossy are staying nearby ready to take the hotel shuttle to pick the second two-week team up expected to arrive at 3:15 a.m.  We will certainly let you know when they have arrived and we are joined together. Steve and Juliana West have been an incredible part of leadership for the team and we look forward to all they have to share about their experiences. They may even share about the flying white ants!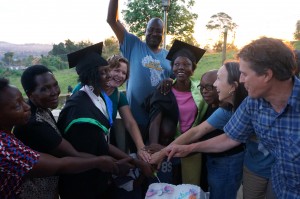 It is an exciting time in the life of Embrace Uganda as our scholarship students are beginning to graduate.  It was such a blessing yesterday to join two of our recent graduates for a celebration in the garden sanctuary at Agape Children's Village at sunset.  Eva received her teaching certificate and Mabele received her degree in social work.  Pastor Michael, Cossy and the Director of Agape Children's Village were all their to take part and speak.  They inspired even the youngest orphans to do their best in school in order to wear the cap and gown and get a delicious cake homemade by Mama Grace!
We have a challenge before us though as we go back home with names of 5 candidates for University.  It is our desire to carry through with all of our secondary students and help each one reach their fullest potential with University or Vocational training.  If you or someone you know would like to sponsor a student please go online or email us for further details.
Mama Dot